Businesses For Sale in Thailand, and Startups
Having lived and worked in Thailand since 1994, I've had a lot of business and personal exposures, and often bitten off more than I can chew in trying to provide solutions to needs and desires. The result of that is some businesses which I started and then stopped. Some others were stopped in other states and with other arrangements.
Now at age 62 and wanting to reduce my workload, I'm even considering maybe selling one of my existing core businesses, my long time real estate business geared to helping incoming working expats with company or government contracts, rather than ramp it back up post-COVID, as discussed in another section. You can look for it on the web.



However, below, most of the following additional businesses are some I already wound down, or ended some other arrangement about, or never got off the ground but which I think have potential if somebody has the time for them. You can propose a bid to take them entirely. Alternatively, if you don't want to just take over but want me to help you out, I wouldn't rule out some way of working together and staying engaged if there's a good match. I'm just not up for being the prime mover anymore. I'm not greedy, I'm generous, and am happy to have a very minority stake or role.
For any of the businesses below, please contact me via my KK one above or else this guru website because the contact forms and mail addresses for the websites below are not closely monitored or may not work at all anymore.
Thailand Company
This business was fully operating and doing well, setting up companies for foreigners, getting work permits, and generally providing a wide range of assistance with company setup. I ran it from starting around 2002 to the time of the 2006 military coup. Around the time of the coup, the military government started changing a lot of the rules which affected foreigners. Part of the reason was the deposed Prime Minister's businesses and loopholes, including his telecommunications company which was sold to a foreign entity in a questionable way. However, there were other reasons, too.
The result was a lot of new red tape, and uncertainty about what was coming next. We decided to pause that business for awhile, and move staff to other work, such as our busy real estate business. I had intended to wait awhile and then resume company setup, but I never went back to it, except occasionally to help a friend or close colleague.
If you like meeting entrepreneurs and businesspeople, as I do, then it's a very interesting and rewarding business. Thai staff did most of the detail work, which I then double checked with the clients. It was easy to beat a lot of the competition as regards quality of work and service.
You can still see our very old website, ThailandCompany.com but the address and contact information are way out of date as that goes back to the mid-2000s before we moved our office to Sukhumvit. A buyer would get the domain, the website (may want to move the text to a more modern design), and some guidance on how we operated this business.
We also had this other one below for accounting, which I pointed towards some accountants who helped us. However, they got busy and didn't scale up, so when their responsiveness was not to my satisfaction, I took down the website, long ago, though kept renewing the good domain. If interested in proposing a bid, please let me know:

Thailand One Stop Shop aka One Stop Service
We also had a Thai-English translation business which I split out around 2003 which was very busy and ran until around 2018 when its manager decided to go back to his home country permanently. Key staff and outsource people had also moved on (including the top translator who I think had been there around 10 years). We are still holding onto that business for now, not selling it (probably), but have wound it down.
At one time, all of our services were wrapped up into what we called the Thailand One Stop Shop website, a long time ago. Many people came to us for multiple things because they could come to one place for many things, rather than running around between separate service providers who didn't know each other. There is a definite synergy and advantage in a "Thailand One Stop Shop" for one stop service.
The website was taken down long ago around the time when we were split between 2 offices and the real estate business was very busy, but I still have all these domains. If you are interested in purchasing these, please propose a bid.

(You could type in any of the above and they would all go to the same website. That is very, very simple to program.)
... And there was more to the Thailand One Stop Shop. We had an attorney friend who was very nice and helpful, a wise old man, who spoke very good English and liked to socialize with foreigners. He was actually semi-retired, but like many old people, he was mellow and very wise, and I really liked him. He was happy to help nice clients, with good service, as he had so much experience and broad knowledge of the law. He was a gem. Unfortunately, he inevitably got old, and that arrangement faded away.
We made connections to additional attorneys, too, and still maintain contact to some of them. However, they already have their own website or else they are individual attorneys.
I had planned to run a basic attorney website to help match foreigners to attorneys, but never set it up. Here's the domain, and yes, if you want to propose a bid for it, please do:

We also got this other one below but didn't use it, either.

Our property business also benefitted from this Thailand One Stop Shop, as some of the foreigners coming in to start up their business of choice also needed housing, plus sometimes we would help them find their own office space and get that rolling. Sometimes, we would register their business at our location first, then move it to the location of a suitable office later.
I also got this domain below around that time as an alternative, but never used it. It's also available for a proposed bid.

Thailand Agency could be used for a wide variety of things ...
Exports
I observed that many very successful and wealthy people are in the exports business. This included landlords of properties, and expats in Thailand.
Some of the expats had leisurely days because they had clients with repeat orders, such as distributors, store chains (such as WalMart), and large individual stores overseas. They would just wait for reorders of the same things when stocks got low.
I didn't have the money or time to design and test a product and build my own factory, so I thought maybe our company could help others in marketing, especially in the English language, and take a small cut in sales. Also, many manufacturers had no website or a poor website, so we could get their product online in our website.
Our office at the time was a very short distance from the giant Impact Exhibition Center, which had trade shows coming thru regularly. (Yes, our office was in Muang Thong Thani.) We met many vendors, took photos of products and their business cards, and planned to ramp this up.
We have a draft website. Products are in a tree of categories and subcategories of many levels, and it is searchable. Unfortunately, we had turnover of I.T. people and some other disruptions. The website seems to work fairly well but still needs some work. I opened another office on Sukhumvit and got caught up in my real estate business there which was turning out good profits, whereby this project just went onto the back burner. The website needs a bit of modernization now. However, the business plan and concept are there.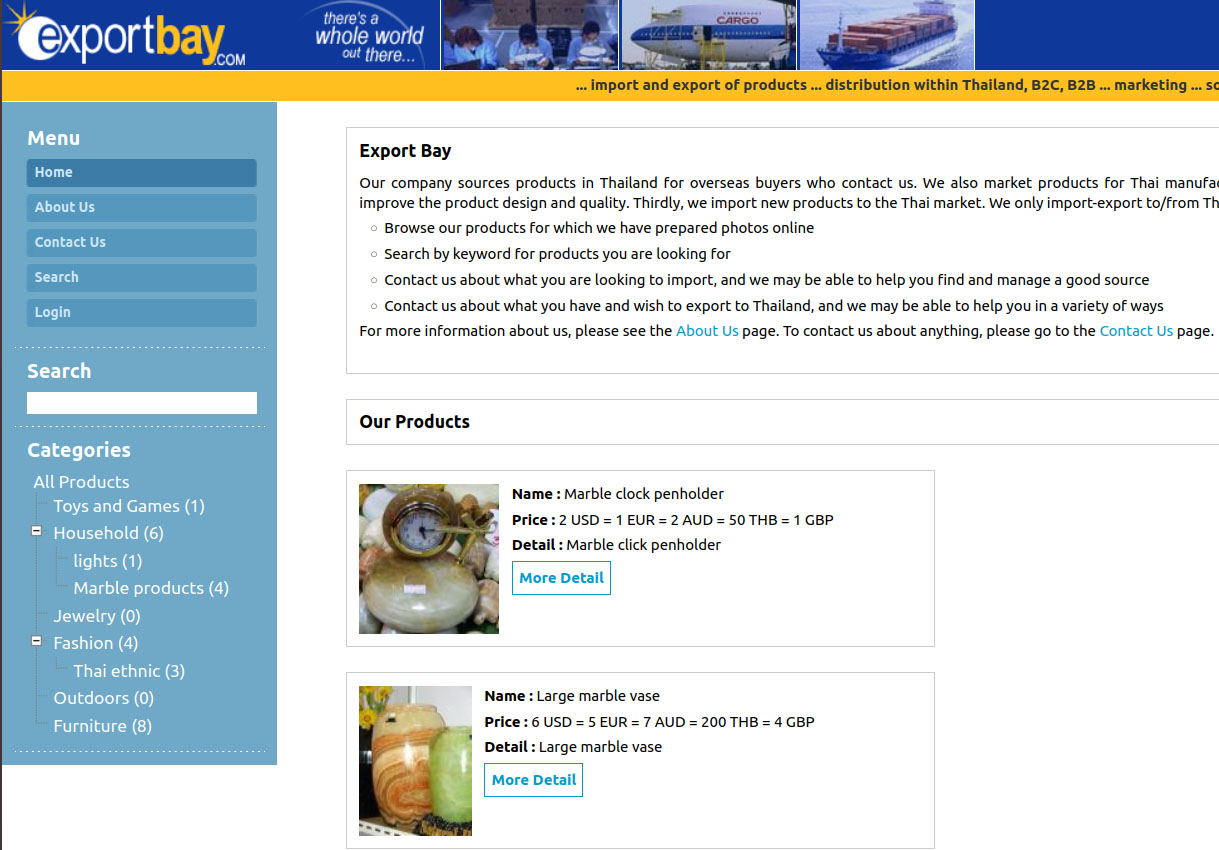 It's also available for a proposed bid, and/or maybe you might want me to work with you on this.
Thai Love Match
The idea was an internet dating website which is different from others in that there is an attempt to "match" people. On so many internet dating websites, it's mainly just pretty faces and very short biographies, many of them ridiculously short. It's no wonder that people waste a lot of time, money, and emotion pursuing fantasies which turn out unrealistic, or else wind up with difficult marriages.
The basic goal was to get people to write a lot more about themselves, even if it required a more detailed questionaire and a lot of guidance about what to write, and to be clear what kinds of people they are looking for, as well as their level of seriousness. It could be anything, but at least it's more information in order to make a "match" between people.
We could also do basic algorithms to match in a search.
We created a basic website and opened it up to the public, whereby had some participants, including some who came by our office. The website was based on an out-of-the-box turnkey open source website one we downloaded and modified, but I thought it needed to be redesigned from the bottom up in order to serve its purpose and be better than others. I took it down and decided to build a new one from scratch.
I needed to spend more time guiding the I.T. people. Unfortunately, I was out in the field too much on my property business. The project died as we came out working on other things.

GPS GyPSy
This one's online so you can just go look at it. GPS Gypsy. If you take the word Gypsy, you can see it has GPS in it, GyPSy. Hence the logo and brand. I have a registered trademark on it.
Just type the name followed by .com and you'll go to the site. I disabled all other countries, so it does only Thailand now. On the home page, just click on the link for Maps at the top. Other stuff also works, but Maps is the heart of it.
This one has a lot of potential internationally, way beyond Thailand ... and a good universal brand. If you are interested, please inquire.
Comments
I'm keeping this guru website because I love it a whole lot. I enjoy working on it, and plan to keep updating it. It's more a hobby of mine, and a way of meeting people socially. I like helping and teaching people, including about Thailand.
---
---
---
---
Copyright 1999 - 2022 by Mark Evan Prado, All Rights Reserved.
Notably, I get quickly notified of copies of tracts by the CopyScape / CopySentry automatic search engine & notifier.
Short quotes are often OK and can be approved, if there is a clear reference and web link back to my website from the quoted material, and if you send me a short message. I try to help people with good intentions, and try to help the world. Not thieves. Links back to this website are helpful for sustainable progress, thank you!
Please have honor and class by following intellectual property and internet protocols. Be a good kind of person in life.
---
Services discussed on Thailand Guru are provided by our friendly staff in our family of 3 companies:
Lucky Lion Pride Co., Ltd., centrally located on Sukhumvit soi 2
Prado Property Co., Ltd. co-located on Sukhumvit soi 2
Export Quality Services Co., Ltd., co-located on Sukhumvit soi 2

Led by two longtime expats from the USA and New Zealand
and supported by many good, skilled longtime Thai staff,
customers usually find us a delight to work with.

Please click here for how to contact us
Please make an appointment before stopping by.

Ploymitr Bldg., Floor 7
Sukhumvit soi 2
Klongtoey, Bangkok 10110 THAILAND

© Copyright 1999- 2022 by Mark Prado, All Rights Reserved.

More information on Thailand and some surrounding countries can be found in the Travels section of the personal website of Mark Prado, the author of ThailandGuru.com
DISCLAIMER: Although efforts have been made to ensure the information on this website was correct at the time of electronic publication, ThailandGuru and all its associates do not assume and hereby disclaim any liability to any party for any loss or damage caused by errors, omissions or misleading information resulting from negligence, accident or any other cause. If you choose to take any of this advice, it is at your own risk and no other entity's. ThailandGuru and its associates will take no responsibility. The only thing we guarantee is that our website information can take bandwidth, memory and/or disk space, at least temporarily. Guru is relative.