Copyright Notice
The ThailandGuru website (text and photos) is copyright 1999-2010 by Mark Evan Prado, All Rights Reserved. The Bangkok home search website www.kkBkk.com is also copyright by Mark Evan Prado, All Rights Reserved, as well as other websites created by Mark Prado, some of which are linked to this notice page. On this website, I, Mark Evan Prado, promote the services of some companies in which I own a stake, and this promotion may be on a temporary basis, currently Prado Property Co., Ltd., and Export Quality Services Co., Ltd., and Lucky Lion Pride Co., Ltd., but I retain all options and rights to the copyright of the text and most of the photos.
Copyrighting vs. copycatting is mainly an issue of personal honour. However, as they say, "Praise the Lord but pass me some bullets", so I also use CopyScape / CopySentry to help me find copies of my material. CopyScape / CopySentry is a monthly pay service which automatically searches for other pages on the internet which have tracts of text from my pages, a very effective page-by-page automatic search. When it finds copycats, it informs me by email, and my Thai staff or myself investigate, then systematically take the routine action.
The founder of ThailandGuru, Mark Prado, worked in Intellectual Property (IP) for the U.S. Department of Commerce in the mid-1980s. This included completion of official academy training in copyrights, patents and trademarks, and official work (mainly as a patent examiner dealing with judgments and lawyers). I know the laws and practical & effective means of dealing with infringing people.
Thailand is a member of the Berne Convention, which means that anything copyrighted in any member country is enforceable in another member country, so you need only copyright in one country to enforce protection in any other country. (There are 163 countries which are members of the Berne Convention.) Further, Thailand is a member of the World Trade Organization (WTO), which further includes The Agreement on Trade Related Aspects of Intellectual Property Rights (TRIPS).
Mark Prado is a beta tester of the Electronic Copyright Office (ECO) of the US Copyright Office, a way of filing copyrights instantly by internet, which is one way that copyrights of Thailand Guru and other material have been filed. (ECO is still a beta, not open to all, as of mid-2008.)
We are also familiar with the Department of Intellectual Property (DIP) of the Thai Ministry of Commerce. One of our Thai partners (my wife) was a journalist of high stature, and dealt with intellectual property matters at one stage.
Notably, the leading IP infringement investigation company in Thailand is Quantico, Ltd., formerly the Bangkok Branch of the American multinational Pinkerton, and its longtime Managing Director, Rusty Lerner, is a longtime associate of mine, since 1995. Their customers include Adidas, Nike, Nokia, HP, Lacoste, Disney, Harley-Davidson, Motorola, General Motors, BMW, several premier league soccer teams, etc., etc. Rusty has vast inside contacts to find out most kinds of information in Thailand ...
This website helps to support some businesses with good people as our staff, and it supports our dependent families, so this is also a matter of survival. My staff systematically and routinely pursue plagarizers via multiple routes. It starts with a simple email message. If no response, then a phone call. If no response then contacting the website's ISP and additional means.
However, if someone makes a reasonably short quote from our website together with a clear web link back to us, with clearly good intentions, then we will normally thank them and show our appreciation. We can help each other, and help the world, in sustainable, synergistic, and mutually supportive ways.
It is only the selfish thieves and parasites who we go after, the bad guys.
Now for a graphic ... Obviously, I didn't keep my badge when I worked for the US government in intellectual property (and later for the Pentagon in space defense and advance planning), but I did get the privileges of a credit union!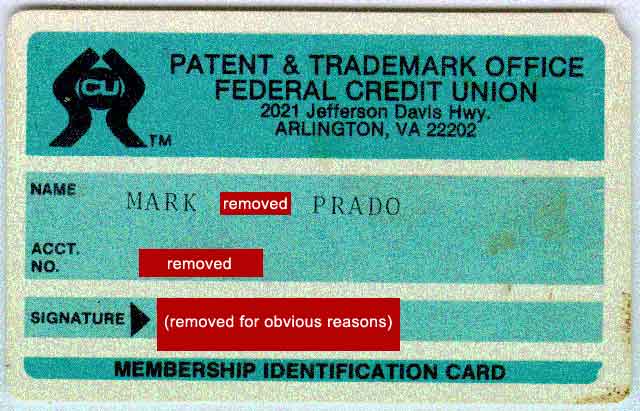 After this job, I switched to working in advanced planning in the U.S. space program, and after that became a communications (and computer) consultant, networking worldwide, long before the internet became mainstream. It was my role as a communications consultant that eventually led me to come to Bangkok in 1994 to help out associates of the Asia Regional Office, which is located in Bangkok, Thailand. After a decade in the Washington, D.C., region, I didn't really want to go back, and frankly, I'm not fond of government related work, nor many of my country's politicians, some of its bureaucrats, some inside contractors, etc. So I switched to purely private sector consulting in Asia, and choose my own policies, responsibilities, and customers. Now, I have a Thai wife and 2 daughters.
About copycats, while we don't mind competition, on the other hand we don't tolerate crooks and criminals who just copy copyrighted stuff shamelessly, and as a private investigator I have the skills, contacts, and of course motivation and focus to deal with that kind of low life. So do my Thai employees. This is the livelihood of ourselves and our families.
Being a copycat is low class. Being proudly original is the better way to be in the evolutionary progress of life & spirit in our generation.
Here's my main mission in life (and yes, I registered the trademark by myself, no lawyer, and also got permanent.com ): www.PERMANENT.com



---
---
---
Additional, children pages of this current parent page:
Copyright :


---
Copyright 1999 - 2023 by Mark Evan Prado, All Rights Reserved.
Notably, I get quickly notified of copies of tracts by the CopyScape / CopySentry automatic search engine & notifier.
Short quotes are often OK and can be approved, if there is a clear reference and web link back to my website from the quoted material, and if you send me a short message. I try to help people with good intentions, and try to help the world. Not thieves. Links back to this website are helpful for sustainable progress, thank you!
Please have honor and class by following intellectual property and internet protocols. Be a good kind of person in life.
---
Services discussed on Thailand Guru are provided by our friendly staff in our family of 3 companies:
Lucky Lion Pride Co., Ltd., centrally located on Sukhumvit soi 2
Prado Property Co., Ltd. co-located on Sukhumvit soi 2
Export Quality Services Co., Ltd., co-located on Sukhumvit soi 2

Led by two longtime expats from the USA and New Zealand
and supported by many good, skilled longtime Thai staff,
customers usually find us a delight to work with.

Please click here for how to contact us
Please make an appointment before stopping by.

Ploymitr Bldg., Floor 7
Sukhumvit soi 2
Klongtoey, Bangkok 10110 THAILAND

© Copyright 1999- 2023 by Mark Prado, All Rights Reserved.

More information on Thailand and some surrounding countries can be found in the Travels section of the personal website of Mark Prado, the author of ThailandGuru.com
DISCLAIMER: Although efforts have been made to ensure the information on this website was correct at the time of electronic publication, ThailandGuru and all its associates do not assume and hereby disclaim any liability to any party for any loss or damage caused by errors, omissions or misleading information resulting from negligence, accident or any other cause. If you choose to take any of this advice, it is at your own risk and no other entity's. ThailandGuru and its associates will take no responsibility. The only thing we guarantee is that our website information can take bandwidth, memory and/or disk space, at least temporarily. Guru is relative.
Menu: Site Map