Modelling and Thai TV Ads
One day, not long after I had arrived in Thailand (mid-1990s), I was walking in Seacon Square when a couple of young ladies walked over to us with a clipboard and politely asked if they could talk with me. They came out talking mainly to my female companion in Thai, and they wanted me to go to their studio to have photos taken for modelling. My companion assured me that this seemed a proper agency.
The next day, we went to their studio located along the shortcut route between Pattanakarn and On Nut (parallel to and between Sri Nakarin and Klong Tan). In their small complex, they had various garden backdrops and photo rooms.
A few days later we got a phone call and they wanted to pick me up at 6:30am for the filming of a TV commercial for Hino trucks. My fee for the day: 3000 baht. I actually rescheduled better paying work in order to make time for this experience.
Photo: Most ads feature foreigners, half-breeds or white-skinned Chinese Thais, not mainstream tan Thais.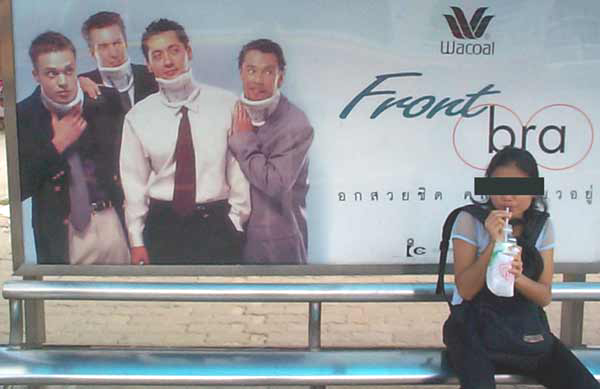 They were not late one minute in picking us up, me and "my Thai agent". It was an old sportscar, and they were confident and charming young men. Our destination was a studio on Lad Prao down near Chok Chai. On the way they noted that the studio considered my rate expensive, and they wanted to make sure I didn't arrive late, so they had come early before traffic hit the roads.
(I should note that having a good Thai agent can make a big difference. My Thai companion instrumental in cementing the relationship at the shopping mall and the studio, and smoothed over the entire day. Anyway, the Thais did the usual pleasant and charming chitchat while I napped on the way, and seemed to work into my handlers as their agent, too.)
We arrived at a place with a large central area where people were working on the set, surrounded by dressing room areas. Breakfast was offered first, which was typical cheap Thai food, and people were eating. There were three other farangs there, and lots of Thais.
All three of the other farangs were experienced in acting, and had gotten the job because they had prepared a photo portfolio and mailed copies of it to agencies listed in the telephone yellow pages. Thus, if you want to do this kind of thing, that's how to get in. What mattered were the homemade poses and somewhat action photos. All three of the other farangs were American, like myself.
The plot was silly. The Hino truck was to be a boxer. I was to dress up as a trainer, together with a Thai guy nicknamed Mike. Another Thai guy was made up to look like Don King (and he fit the role very well in both appearance and acting ability), the farang lady with blond hair and blue eyes was his escort (in real life the daughter of a U.S. foreign service officer, so we were both from the same home turf, the Washington DC area a world away), the sleazy looking farang actor was the announcer (who was really sleazy in true life, a recent arrival in Thailand after doing a scam in India, long story), and the African-American farang was in Don King's entourage (a happy-go-lucky world traveller who made a living by modelling and acting).
Everyone else took acting very naturally, and I was fortunate to watch the making of the first set before I got in front of the camera. "Bad actors act, good actors are." So I imagined myself as the professional trainer of ... a Hino truck. Hino was my brand. I was dressed as a trainer.
The lights were bright and from all angles, with no shadows. We were surrounded by a mini-stadium of spectators who cheered on cue. As an actor, it was a matter of the surreal becoming real. You get into the feeling real quickly, and it became easy and routine. I became the trainer of a boxer for a day, and I suppose I can add that to my CV now -- trainer of a boxer.
Most of the day, however, was sitting around in the dressing room while the set was being changed between filming scenes. It would be an hour of set changes, half an hour of filming and refilming as changes were improvised, then another hour of set changes. Some sets would have some of us, another set have others of us, so we would sometimes have a layoff of two or three hours. That's the down side to acting, though it also means a lot of time to get to know the other people, and also to flirt with the pretty young ladies.
I was one of two trainers. The other was also new to acting, but little did we know at the time that he would hit the bigtime in Thai TV and movies in the next few years. His story is fascinating:
He was a Thai guy by the nickname Mike. He fit the appearance of a trainer and tough guy better than I did, but he was a very nice and polite guy with good poise. His head was shaved, and there was a scar. He previously had a full head of hair, but was working in a warehouse (as cheap labor) when a box fell off a shelf and hit him on the head. They took him to a hospital and shaved off the part where they had to stitch him up. Since having part of his head shaven looked funny, he shaved off the rest. Little did he know what luck that accident would bring to his life, by launching a new career.
Like me, he was pulled over at the shopping mall. The shaved head, strong body and dark skin fit the image of a black American boxer trainer. Once on TV, he was seen by other agents and before long he was on other TV commercials, in TV and then movies, the Thai Hollywood. His role was sometimes as a tough mafia guy, which was quite unlike his real personality. But at the time, that was all an unimagined future to all of us, and he was getting paid less than me for his first acting job.
We were the central group of actors. On the other side of the complex, kept separate from us, was a huge group of Thais who made up the audience who cheered upon cue. Their salaries were 250 baht per day, but there were many cute young ladies there, and some of them were friendly. Many were also hopeful that someday they would become a soap opera superstar or somesuch. In the down time between scenes, I eventually walked around and mixed with some of the lovely ladies. I was surprised to find that they looked up to me, and treated me like I was some kind of big movie star.
In one scene, I was standing on top of the truck waving the belt that the fighter wins for being victorious, the only guy in the foreground with a zoom of me on the TV screen, with the audience in the background cheering like crazy. That scene is my biggest claim to fame in Thailand, and I later got some phone calls from surprised Thais exclaiming that they saw me on TV! In retrospect, I'm surprised that they didn't have Mike up there doing that scene. I'm too thin.
There were several different scenes filmed, as it was to be a series of TV commercials played on different days. The different scenes were not filmed in order. In fact, the entire commercial series was improvised to a considerable degree. We would do a scene, then the directors would watch a replay, discuss and think about it among themselves, modify a few things, then then film a retake. The directors were good. They knew the general scenes they wanted, but they kept improving it.
In another scene, Mike and I are in the background on the ringside swingingly cheering on an imaginary boxer, while in the foreground Don King and his entourage are watching calmly and then jump up and cheer wildly as the boxer apparently knocks out the competition. Watching that one on replay at the studio was the highlight of the day, as the actor playing Don King was great.
In a third scene I'm wiping and polishing the truck in a subserviant way.
Finally, in another, the truck drives in with Mike and I jogging beside and in front of it.
All in all, it was near sunset when we finally finished the filming. Adding up all the hours, the pay averaged just under 300 baht per hour, somewhere around U.S. minimum wage, but the 250 per day Thais were apparently making about 20 baht per hour. Perhaps that was high pay for a Thai, but it was low pay for a well skilled farang computer consultant in Thailand during the economic boom period before 1997.
The agency wanted me to spend a second day to do one scene, whereby they would drive me about 200 kilometers to the province of Ratchaburi and have me jogging beside a Hino truck climbing up the mountain. The show was over for everyone else, and it was just Mike and I now. I remember overhearing them comment that my pay of 3000 baht was high, and maybe another rate could be worked out for this easy second day. I commented that I have other work to do anyway. In the end, they took only Mike out.
The series of commercials started appearing on TV within only about a week, and I started getting calls by people I worked for or who otherwise knew me, who saw me on Thai TV.
A few days later, I got a call to audition for another commercial. No pay, just an audition. My first audition. It was for Nescafe. Again on Lad Prao, but different location, not far from the first.
There was no script, no nothing. Several of us just stood in line to take our turn getting in front of the camera, introducing ourselves and then doing our own skit out of our own imagination. I was the one and only farang. Further, there wasn't a word of English spoken.
One of the people doing the audition was a halfbreed Thai guy. He got it. Both TV commercials and also printed labels. In fact, now several years later, he's still on the labels of Nescafe jars and packages. His audition wasn't dramatic, but it was clear from the moment they saw him that he had the looks they wanted.
Shortly after this audition, I moved and didn't update anyone on my new telephone number (didn't have a mobile phone back then). I also skipped out on an outdoor social for the actors which I was invited to, at a private house with a pool near the Chao Phraya river north of Bangkok. I was busy consulting to multinationals and driving around Thailand in my new car.
This was before the 1997 Asia economic crash. After the 1997 crash, 3000 baht per day didn't sound quite so bad, and my Thai language and cultural skills were vastly better, but I didn't pursue this line of work.
Tips -- Want to Act in Thailand?
This article has gotten a lot of feedback over the years, so I will tell people how to do this kind of work.
First, create a portfolio of yourself. Get some good photos. Write up your age, measurements, any special talents you have, and a little bit about yourself. Send it to the modelling and production agencies. I have never done this, but this is what the other people told me they did to get the job, the people on the set with me. It seems I was the only one who was just pulled over at a shopping mall.
Secondly, get to know people in that community. After that long day, I was invited to a party at someone's mansion on the river with a private swimming pool and a big yard on a weekend day. I didn't go. That was a good chance, but I had to make a decision. I thought it over and decided not to step onto that slippery slope. I wonder how things might have turned out differently if I had made a decision otherwise...
... like I wonder how my life would have turned out differently if I had not decided to go to Thailand in 1994 ...
Warning
Two things:
Drug-taking is common in the modelling and acting communities. While my agents had nothing to do with drugs, like most people in the field, there is a significant percentage of people taking them. See also the ThailandGuru section on illegal drugs.


Recruiters and agents often coerce sex from applicants, with the deal being something like this: They will give you good acting/modelling opportunities if you have sex with them. If you don't, they may instead give the opportunities to someone who will. Most don't do this, but many do. It's usually not stated crudely but is implied fairly clearly. These agents and recruiters have sex with a very large number of people. In fact, one agent said it was his main motivation for continuing to be an agent, as he had other work which paid much better.
Thus, watch out for your family and friends in the business of modelling and acting.
---
---
---
Additional, children pages of this current parent page:
:


---
Copyright 1999 - 2022 by Mark Evan Prado, All Rights Reserved.
Notably, I get quickly notified of copies of tracts by the CopyScape / CopySentry automatic search engine & notifier.
Short quotes are often OK and can be approved, if there is a clear reference and web link back to my website from the quoted material, and if you send me a short message. I try to help people with good intentions, and try to help the world. Not thieves. Links back to this website are helpful for sustainable progress, thank you!
Please have honor and class by following intellectual property and internet protocols. Be a good kind of person in life.
---
Services discussed on Thailand Guru are provided by our friendly staff in our family of 3 companies:
Lucky Lion Pride Co., Ltd., centrally located on Sukhumvit soi 2
Prado Property Co., Ltd. co-located on Sukhumvit soi 2
Export Quality Services Co., Ltd., co-located on Sukhumvit soi 2

Led by two longtime expats from the USA and New Zealand
and supported by many good, skilled longtime Thai staff,
customers usually find us a delight to work with.

Please click here for how to contact us
Please make an appointment before stopping by.

Ploymitr Bldg., Floor 7
Sukhumvit soi 2
Klongtoey, Bangkok 10110 THAILAND

© Copyright 1999- 2022 by Mark Prado, All Rights Reserved.

More information on Thailand and some surrounding countries can be found in the Travels section of the personal website of Mark Prado, the author of ThailandGuru.com
DISCLAIMER: Although efforts have been made to ensure the information on this website was correct at the time of electronic publication, ThailandGuru and all its associates do not assume and hereby disclaim any liability to any party for any loss or damage caused by errors, omissions or misleading information resulting from negligence, accident or any other cause. If you choose to take any of this advice, it is at your own risk and no other entity's. ThailandGuru and its associates will take no responsibility. The only thing we guarantee is that our website information can take bandwidth, memory and/or disk space, at least temporarily. Guru is relative.