Shopping Centers and Superstores
Thailand has many big, beautiful shopping center malls. It was one of the most stunning things I discovered about Thailand when I arrived in 1994. The artistic quality, diversity of shops, and special features on the top floors like rides, a zoo, and swimming water parks on the roofs of some made them out to be unlike anything I'd seen in the USA.
However, many people prefer to shop in a "superstore", similar to Walmart and other "department stores" in the USA, where you walk into one store, get a shopping cart to push, and shop for everything, instead of a shopping mall where you buy a little from each different store. The superstores tend to be 1 or two levels of giant floorspace, where you can hike over to one department to buy a fridge, another to get a new computer, then go pick up some clothes, and then roll past the large grocery department before checking out, all on the same floor. I've seen newly arrived expat families look like a choo-choo train of carts going down an aisle.
It helps to know the recent history and differences between two different kinds of places:
Shopping Centers
Superstores
Thailand has almost everything available in American stores. I don't know about other countries. Thailand also has a lot of good and interesting things that don't exist in the USA. I'm sure expats from other countries will say the same.
This is very different from yesteryears. I arrived in 1994. Up to 1997, there were still many important things which could not be found in Thailand. That list shrunk until it practically disappeared shortly after the year 2000.
Part of this is because of the arrival of the foreign superstores, due to WTO (World Trade Organization) agreements which opened up the market to foreign competition. In came superstores, mainly from British and French multinationals, which blew away both the "mom & pop shops" and the local chain stores. The multinationals have been racing against each other to dominate the Thai market, and the result is that you can find these superstores not only all over Bangkok but also all over the provinces.
These superstores are huge, and they carry almost everything, both imports and domestically produced items.
Wal-Mart didn't come, but their competitors did: Tesco Lotus (British), Big C (French), Carrefour (French) which was eventually bought up and absorbed into Big C, and Makro (British), racing against each other to offer the biggest stores with the most stuff at the best prices.
Wal-Mart was heavily criticized in the US in the early 1980s for coming into towns and blowing away so many mom and pop established businesses.
The same sentiments existed in Thailand. Here is a sign in the center of Sukhothai town back around the turn of the century calling for a ban on these superstores (and if you can't read Thai then you can still see the red X over Big C, Lotus, and Makro):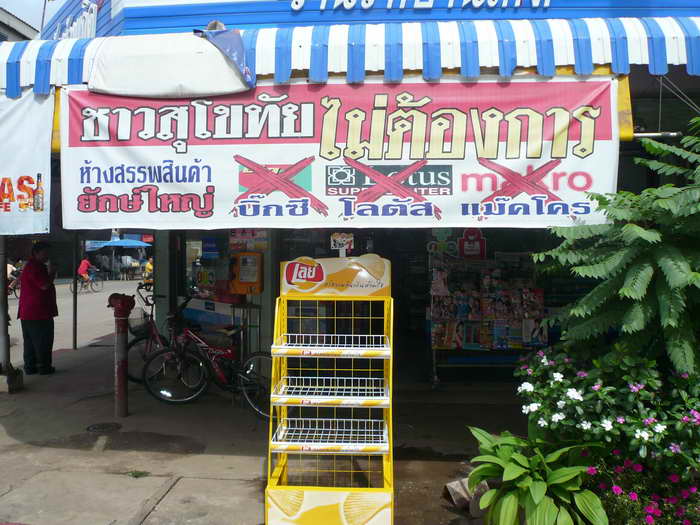 (There were regulations proposed that a superstore must be located XX kilometers from a city center of smaller cities, but that's long forgotten. They've long been in city centers.)
Indeed, Tesco Lotus tried to intimidate journalists in Thailand by filing lawsuits for libel, asking for HUGE damages, over a billion baht!
"Nongnart Harnvilai, a senior editor of Thai-language business daily Krungthep Thurakij, is facing a Bt100-million suit over a column she wrote, questioning whether Tesco Lotus "loved" Thailand because it was planning to expand with 130 new outlets without caring about whether mom-and-pop stores could compete against the chain.

"Two more libel suits were lodged against Kamol Kamoltrakul, another Krungthep Thurakij columnist, and Jit Siratranont, a former MP and now deputy secretary-general of the Thai Chamber of Commerce, seeking damages of Bt100 million and Bt1 billion, respectively.

Source: http://www.nationmultimedia.com/2008/05/09/headlines/headlines_30072642.php
It backfired, because the National Human Rights Commission and the Foundation for Consumers turned that into an even bigger stink with their own press contacts and public relations.
The superstores do employ big money multinational P.R. firms here. For example, Thailand Guru received a letter by courier one day from one of the largest and oldest public relations companies in Thailand, Aziam Burson-Marsteller (ABM). Burson-Marsteller is one of the oldest, if not the oldest, P.R. company in the world, a huge multinational, though the Bangkok branch is now Aziam-BM. Anyway, the big envelope I received at my office by courier was about my opinion writing here on ThailandGuru.com that Big C has poorer quality products on average than the other superstores, as noted elsewhere on this website.
Notably, I was previously a consultant to Burson Marsteller's Bangkok office, so I'm quite familiar with them, though the person who sent the courier and letter didn't know this and didn't know me.
Anyway, my responsibility is to the general public in guiding them (so many peoples' lives affected by my guidance), not selfish special interests. While I read their letter carefully, thought about it a lot, spent a long time with a response, and corresponded with ABM staff, I still maintain my opinion.
ABM staff tried hard and told me that they forwarded my response to a Big C manager and that I would receive a response from the Big C manager, but I never received any response from that Big C manager.
At about the same time, I went back and walked thru Big C again, just trying to be fair and open-minded. They do have the best prices, and some unique products, but on average, in nature, price is proportional to quality, as I found readily apparent to me in browsing the stores again. Enough said.
I also pointed out in my letter that Big C's massively marketed store brand, "Leader Price", is ungrammatical. Of course, it should be "Price Leader". It is sad seeing those big signs on the street "Leader Price", and on the products themselves it makes you take a second look at quality of the product itself. If management can't get a well thought out brand name right, what does that say about their organization in general? (Those Leader Price places are long gone now.)
There are a few Thai superstores, but two nice Thai ones are Central and Robinsons. Some other Thai ones died or are hard to find, e.g., Siam Jusco, Pata, and a few others.
Central and Robinsons are old Thai chains, originally two leaders who competed with each other. When I arrived in 1994, they were the nicest superstores, with Robinsons my preference. Some years later, the two companies merged, probably in response to the arrival of the multinational superstores.
The arrival of foreign conglomerate funded superstores put Central and Robinsons on the defensive. To make matters worse, this came right after the 1997 Asia economic crash when the Thai stores were shrinking. Some had foreign debts which had effectively doubled just on account of the rapid loss in value of the Thai baht. For example, Centrals flagship store on Chidlom closed down its top two floors as it sold off stock and conserved cash.
However, the arrival of foreign competition was probably the best thing that happened to Central, as it had to dramatically upgrade its standards. Indeed, it overshot its mark to stellar proportions. Just take a look at Central World, located just two blocks from Central Chidlom which has also rebounded splendidly.
Given the great rebound of Central/Robinsons a few years after the arrival of foreign competition, Central/Robinsons are now back to being superior to anything the foreign superstores have been able to throw Thailand's way ... in Bangkok. The foreign superstores, however, have come to dominate practically all other provinces, where it's hard to find a Central/Robinsons anywhere.
You still see separate Robinsons and Central stores. It seems that the new company stopped creating new Robinsons stores, but are maintaining and somewhat enhancing all the old Robinsons.
Central has appeared to create entire shopping malls with the Central store on one end and big logo outside, then leases out space to a diversity of other shops to fill up the mall. I don't know for sure if this is the situation, but that's what it seems to be. Either that or some kind of strategic partnership which the foreign superstores haven't done. Some of these Central complexes are very lavish.
Central department stores (and now Robinsons) usually have a Tops supermarket on the lowest floor, often the underground floor. The quality of the Tops varies from store to store, from very good to sub-par.
The foreign superstores have responded by creating small shopping centers around them. Unlike with Central/Robinsons, the foreign superstore complexes have the superstore consuming the lion's share of the space, but they put up a frontal facade with fast food eateries (KFC, McDonalds, MK Suki, etc.), odd small shops, and hawker kiosks to draw in more customers.
In turn, the Central people seem to have shifted their strategy and resources to shopping centers themselves, rather than focusing so much on their own stores. For example, the fantastic new Central World in Bangkok, the upcoming Central Plaza Chaeng Wattana (the suburb of Nonthaburi), and Central Plazas in Pattaya, Chonburi, and KhonKaen by the same company, which has become the Central Pattana Public Company Limited.
Central World has a grocery store that is the best competition to Villa Market, though the Central World grocery store is on a top level. However, that's the only one in Thailand that can hold a candle to Villa Market, thus far.
The Central malls blow away the superstores in every way except two: you can't run a shopping cart thru the plaza, and people on a small budget for clothes will stick to the superstores. You can find very good deals for ordinary things in Centrals, mixed in with the pricy and luxurious class items, but in the superstores it's like every turn offers a deal and you don't need to walk past the name brands and other pricy stuff to find the normal deals.
Of the western superstores, Lotus has the next best selection and quality of goods according to my preferences, though Carrefour is very close and the preference of some foreigners. The atmosphere in these stores is OK.
Big C promotes itself heavily as having the lowest prices. Fairly true, but the same can be said of the general quality of its goods, an issue I've found Thais in agreement with as well.
Then there's amazing Makro. I am amazed not only at their odd kind of store, but also that ordinary people shop there. These ground-floor-only stores are like warehouses. The floor is cement, the steel shelves are of warehouse sort, goods are on pallets, there are steel bins with copies of a product stacked up, which is all OK, but ... so many things cannot be bought separately but are packaged in groups. For example, I wanted to buy a jar of orange marmalade, but I cannot buy just 1 jar, I must buy a packet of 3. Similarly for tomato sauce (ketchup), canned tuna, and it seems most everything else I wanted. Many things are sold individually but not most of what I want to buy. I don't want to turn my kitchen into a stocked up warehouse!
Yet, so many Thais shop at Makro. Why? I asked a Thai. They replied that Makro offers lower prices in bulk, and is the oldest western superstore so many Thais have always shopped there, just going back to what they are accustomed to. The selection of foods is very narrow in my view, only the most mainstream items. So, people who eat the same things all the time and don't experiment must be their customer base. If you want to take a risk try something new, you want to try 1 item, not a pack of 4.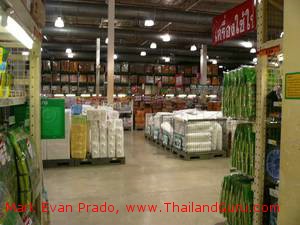 (Click on image for a larger view.)
I did find one good thing about a particular Makro store I visited, on Sri Nakharin: It had a very wide selection of seafood.
The checkout lines were very slow to move. There was no quick checkout line for a small number of items -- I guess they don't want those kinds of customers who buy just a few items.
The Makro stores, unlike all other superstores now, don't have a shopping plaza integrated with them. The Makros tend to still be standalone stores.


Among the superstores, I have the following personal preferences:
The original Thai Robinsons and Central / Tops as my favorite, always good service, normally the best quality

Tesco Lotus next, even though I abhor their heavy multinational attempts to intimidate the press, which makes me skip them often unless it's urgent or important shopping, but in all honesty, I find the selection and quality of their goods better in my opinion, as well as the atmosphere

Big C

Makro
Whenever possible, I will buy from a good mom and pop shop, or a vendor in a shopping mall, but if you're new to Thailand then I recommend you frequent the one-stop-shop superstores at the beginning.
Also, the dedicated grocery stores like Villa Market and Foodland are much better for foreigners than any superstore's grocery store, except for some branches of Tops. However, Villa Market is still the best grocery store chain.
Others' opinions on any of the above are welcome.
Note, in the early 2020s, the giant Thai conglomerate CP bought up Tesco Lotus so the word Tesco was dropped. CP renamed it Lotus's. Yes, Lotus with an 's at the end.
Photo below: Street markets flare up at night all around Bangkok, whereby vendors rent some sidewalk or parking lot space for cheap from whoever controls the area (building manager or police or nobody...), quickly erecting stands made of metal poles and sheet, or mobile table. Items are often factory direct.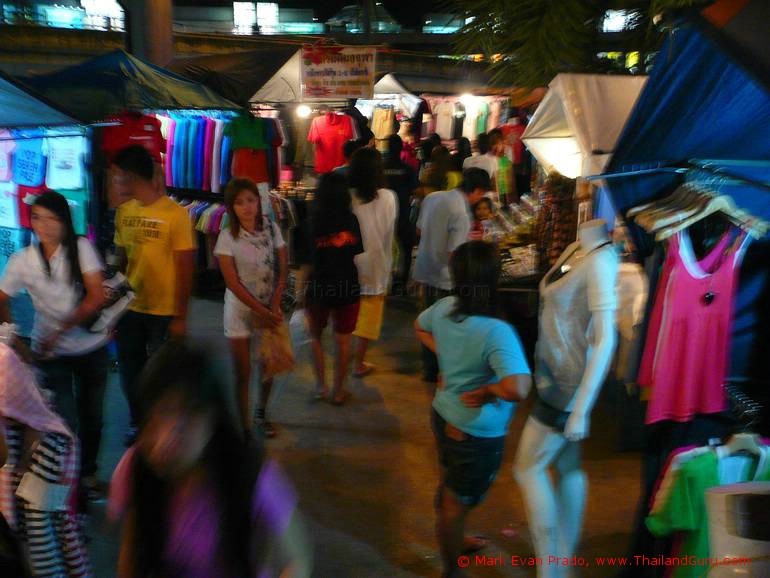 ---
---
---
---
Copyright 1999 - 2023 by Mark Evan Prado, All Rights Reserved.
Notably, I get quickly notified of copies of tracts by the CopyScape / CopySentry automatic search engine & notifier.
Short quotes are often OK and can be approved, if there is a clear reference and web link back to my website from the quoted material, and if you send me a short message. I try to help people with good intentions, and try to help the world. Not thieves. Links back to this website are helpful for sustainable progress, thank you!
Please have honor and class by following intellectual property and internet protocols. Be a good kind of person in life.
---
Services discussed on Thailand Guru are provided by our friendly staff in our family of 3 companies:
Lucky Lion Pride Co., Ltd., centrally located on Sukhumvit soi 2
Prado Property Co., Ltd. co-located on Sukhumvit soi 2
Export Quality Services Co., Ltd., co-located on Sukhumvit soi 2

Led by two longtime expats from the USA and New Zealand
and supported by many good, skilled longtime Thai staff,
customers usually find us a delight to work with.

Please click here for how to contact us
Please make an appointment before stopping by.

Ploymitr Bldg., Floor 7
Sukhumvit soi 2
Klongtoey, Bangkok 10110 THAILAND

© Copyright 1999- 2023 by Mark Prado, All Rights Reserved.

More information on Thailand and some surrounding countries can be found in the Travels section of the personal website of Mark Prado, the author of ThailandGuru.com
DISCLAIMER: Although efforts have been made to ensure the information on this website was correct at the time of electronic publication, ThailandGuru and all its associates do not assume and hereby disclaim any liability to any party for any loss or damage caused by errors, omissions or misleading information resulting from negligence, accident or any other cause. If you choose to take any of this advice, it is at your own risk and no other entity's. ThailandGuru and its associates will take no responsibility. The only thing we guarantee is that our website information can take bandwidth, memory and/or disk space, at least temporarily. Guru is relative.