Bangkok BTS and MRTA Skytrains and Subways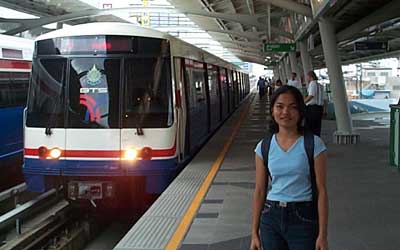 The SkyTrain and Subway are the best way to beat the traffic safely, especially for long trips inside the city, but the trains get packed during rush hour. As long as you avoid rush hour, there is usually a lot of space inside.
During rush hour, when the train passes thru the city center, sometimes people waiting at city center stations must wait in a queue for a few trains to pass before they can get on. If 5 people get off at a station from the door in front of you, then about 5 people can get on from that queue, not all in the queue. You can stand in a queue for awhile. If you don't like crowded trains then you may want to adjust your schedule accordingly.
Packed at rush hour: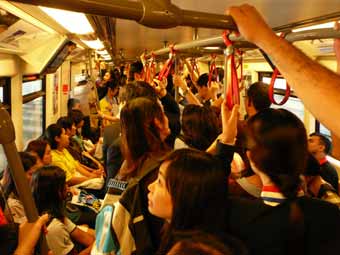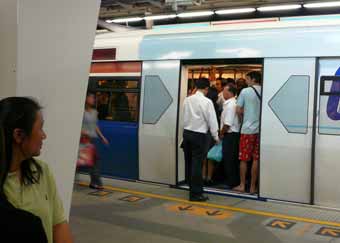 They are often just called "the BTS" and "the MRTA", but I prefer to call them "the rail", or sometimes "the skytrain" or "the subway" to clarify in regard to a particular location. The terminology can be confusing to newcomers. "The rail" is my preference.
The origin for the more arcane acronyms BTS and MRTA is that there are two main companies operating two separate networks: The Bangkok Transit System (BTS) run by the Bangkok Mass Transit System Public Company Limited, and the Mass Rapid Transit (MRT) run by a different organization, the Mass Rapid Transit Authority of Thailand. These two companies are responsible for the vast majority of the commuter rail network in Bangkok. There is a third skytrain which goes to the Suvarnabhumi airport, called "The Airport Rail Link (ARL)", but it's just one line, and it's run by the State Railway of Thailand (SRT), in case you may be interested in these details.
Most people just want to go from point A to point B and don't care which provider(s), but being aware that there are 3 separate service providers is important for understanding why sometimes to switch trains at a transfer location you must switch to an adjacent station and pay again. You can pay per trip at the automatic vending machines, or else you can get a card for each network you use which you top up which saves a lot of time. Many people keep a BTS card and an MRTA card but don't bother about the airport train.
If you're transferring trains between two different lines by the same company, then no need to exit your station and you can transfer trains without any monetary transaction between them. However, just to be extra clear, if you are at a location where two lines intersect but they are run by two different companies, then you must exit one station and pay for a ticket or use a different pass for the other system. You'll typically be following other people on that short walk.
The different lines are called by their different colors -- red, dark red, green, orange, etc.
A station worth noting is Victory Monument, on the red line, which is the biggest central hub of bus transportation for Bangkok, and also where an elevated expressway intersects the skytrain route. You can transfer at Victory Monument to buses going many places, including by the expressway there. Many people who live in the northwestern suburbs take expressway buses to Victory Monument, and the skytrain from Victory Monument.
The last skytrain leaves the first station around 12 midnight. However, if you plan on taking the last train, then you should either have a top-up pass already, or else buy a ticket in advance. I have observed that at some stations, the coin operated ticket machines go Out Of Order around 11pm and the staff haven't always been helpful to people. Thus, it is possible to arrive at a station well before the last train but be unable to buy a ticket to take it.
The best thing to do is buy a pass card well in advance and keep it topped up.
Financial and Political Problems
The skytrain was designed, approved, and built by a mixture of government and private sector operators.
The skytrain is heavily in debt and has been managed somewhat like a nearly bankrupt company at times, with lots of legal wrangling and the hands of management tied in many ways. It has bank debt, and that has been called before more loans.
Actually, plans for a skytrain went way back in time to plans in 1984 for a first 3 lines, the so-called Lavalin skytrain, and big pillars were built, but it was abandoned in 1992, allegedly due to bad contracts and corruption.
Later, an entirely different skytrain project was started was ramped up, financed by a Bangkok Transit System Corporation (BTSC), which resulted in the opening of the service in late 1999 for the city center. Support in expansion has been a roller coaster, as some of the key BTS people were associated with the Democrat party, which went from the party in power to the opposition party near the beginning of the 2000s, and some politicians seemed to put partisan political self-interest above the best interests of the people. Ruling parties have changed many times since, and generally, support for rail expansions later ramped way up.
The MRTA opened its first line in 2004, which was a subway.
In early years, there was pressure to buy more train cars to relieve skytrain overcrowding, since the existing platforms can easily accomodate longer trains with more cars added, but that has sometimes been slow in coming. The number of passengers was actually less than anticipated, which led to statements that there was not enough money for expansion and new rail lines. Lots of management issues.
However, in later years, additional train cars have relieved crowding quite a lot, the rail transport has become more popular, and there has been plenty of money to fund major extensions and new rail lines.
Current Status
Details are far beyond the scope of this website, and ever changing, so I suggest you just try the home pages of both systems:
---
---
---
---
Copyright 1999 - 2022 by Mark Evan Prado, All Rights Reserved.
Notably, I get quickly notified of copies of tracts by the CopyScape / CopySentry automatic search engine & notifier.
Short quotes are often OK and can be approved, if there is a clear reference and web link back to my website from the quoted material, and if you send me a short message. I try to help people with good intentions, and try to help the world. Not thieves. Links back to this website are helpful for sustainable progress, thank you!
Please have honor and class by following intellectual property and internet protocols. Be a good kind of person in life.
---
Services discussed on Thailand Guru are provided by our friendly staff in our family of 3 companies:
Lucky Lion Pride Co., Ltd., centrally located on Sukhumvit soi 2
Prado Property Co., Ltd. co-located on Sukhumvit soi 2
Export Quality Services Co., Ltd., co-located on Sukhumvit soi 2

Led by two longtime expats from the USA and New Zealand
and supported by many good, skilled longtime Thai staff,
customers usually find us a delight to work with.

Please click here for how to contact us
Please make an appointment before stopping by.

Ploymitr Bldg., Floor 7
Sukhumvit soi 2
Klongtoey, Bangkok 10110 THAILAND

© Copyright 1999- 2022 by Mark Prado, All Rights Reserved.

More information on Thailand and some surrounding countries can be found in the Travels section of the personal website of Mark Prado, the author of ThailandGuru.com
DISCLAIMER: Although efforts have been made to ensure the information on this website was correct at the time of electronic publication, ThailandGuru and all its associates do not assume and hereby disclaim any liability to any party for any loss or damage caused by errors, omissions or misleading information resulting from negligence, accident or any other cause. If you choose to take any of this advice, it is at your own risk and no other entity's. ThailandGuru and its associates will take no responsibility. The only thing we guarantee is that our website information can take bandwidth, memory and/or disk space, at least temporarily. Guru is relative.
Menu: Site Map