Bangkok BTS Skytrain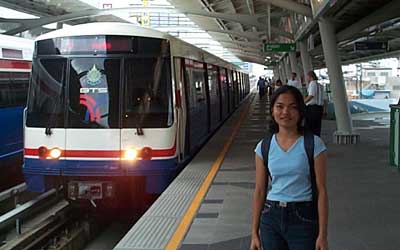 The SkyTrain and Subway are the best way to beat the traffic and pollution, but the trains get packed during rush hour.
However, the skytrain and subway cover mainly the central Bangkok area, not the suburbs.
The skytrain opened in December 1999 and has two lines covering the central business districts of Sukhumvit, Phloenchit, Silom, and Sathorn (many expats live and work along these 4 roads), and then going up thru Victory Monument and out to Chatuchak, near the Mo Chit provincial bus terminal.
The SkyTrain maps and fares are at the Bangkok Transit System (BTS) web site. The English language version is at http://www.bts.co.th/en/index.asp . The fares range from 10 to 40 baht.
Another website of ours, www.ssBKK.com , introduces entertainment and business places near the Skytrain stations and subway stations. SS = Skytrain Stations, Subway Stations, Sukhumvit Sois, Sathorn and Silom ... and the Suburban Side of greater Bangkok (BKK).
The skytrain is fast, but at rush hour in the morning and the evening, the trains sometimes get packed. You can usually squeeze on, but if you don't like crowded trains then you may want to adjust your schedule accordingly. (Same goes for the traffic in general, as well as the buses.) The skytrain company needs to add more cars. The platform and system is designed for it, and you can see lots of space on both ends of the trains plus the markings for the doors at some stations, but they just won't invest in new cars yet (though they are investing in expansion of the network).
Packed at rush hour:
A station worth noting is Victory Monument, which is the big central hub of bus transportation for Bangkok, and also where an elevated expressway intersects the skytrain route. Many smart people who live in the northwestern suburbs take expressway buses to Victory Monument, and the skytrain from Victory Monument. You can transfer at Victory Monument to buses going practically anywhere! For example, I work and live in Muang Thong Thani, a 20 minute minivan ride from Victory Monument, as noted at www.MTTBKK.com
The last skytrain leaves the first station around 12 midnight. However, if you plan on taking the last train, then you should get a ticket in advance. I have found that at some stations, the coin operated ticket machines go Out Of Order around 11pm and the staff won't help you. Thus, you can arrive at the station well before the last train(s), but can't get a pass to take them! This happened to me, and the staff were not helpful, unless I wanted to buy a 1 month pass or somesuch. Thus, if I plan to return on a late train, I buy an extra pass before I leave the station earlier that day/night.
MRT Subway
The MRT Subway (Mass Rapid Transit) is run by a somewhat different organization, the MRTA. However, their website at www.mrta.co.th didn't have much information on their subway. The best source for subway information is on a hobbyist site at
http://www.2bangkok.com/2bangkok/Subway/stations.shtml (stations) and
http://www.2bangkok.com/2bangkok/Subway/index.shtml (history).
The subway runs predominantly thru Thai areas, and intersects the skytrain at the Asoke station and at Chatuchak. The subway mostly runs under the road Ratchadapisek (aka Asoke when near Sukhumvit), then turns west down Rama 4 Rd.
The subway has been of interest to only a small minority of foreigners, since there aren't any foreigner residential areas out there nor foreigner entertainment, and the shopping centers tend to be Thai dominated along the subway line. However, I will say that it's less crowded and the cool stations are appreciated in the hot season.
BTS Skytrain and MRT Subway Future Extension Plans
Plans for future lines have been made and changed so many times that coverage could compete with a Harry Potter series, as covered on the abovementioned 2Bangkok website. However, let me summarize here:
The skytrain extension of greatest interest is the one going past OnNut (Sukhumvit 81) into Bang Na. Construction started in 2007, the elevated viaduct to the Sukhumvit 107 station (Bearing) has been completed as of 2009, and the station is nearing completion, but the station hasn't been fit out, the rails haven't been laid, and so on. The opening date is currently set to be sometime in 2011. Certainly it will not be moved up to before 2011; if anything, there could be more delays.
The other skytrain line going past Silom-Sathorn and over the river currently ends just 2.2 km (1.4 miles) across the river past the Taksin station, at the station called Wongwian Yai. However, a skytrain viaduct was completed back in 2004 for another 5.5 km all the way to Petchkasem Road, at considerable cost. However, no stations were approved so no construction was started, and there is no rail on top of that viaduct.
Financial and Political Problems
The skytrain was designed, approved, and built by a mixture of government and private sector operators.
The skytrain is heavily in debt and has been managed somewhat like a bankrupt company, with lots of legal wrangling and the hand of management tied in many ways. About half of its debt is to the German development bank KfW, which has said that it wants old debts settled before it will support any significantly more extension.
There is pressure to buy more Siemens train cars to relieve skytrain overcrowding, since the existing platforms can easily accomodate longer trains with more cars added, but that has been slow in coming.
This is the main reason why there is slow development of the extensions.
After opening in 1999, the year 2000 election saw the rise of the Thai Rak Thai political party under Thaksin Shinawatra (deposed by coup in 2006), which ruled from 2001-2006. There were rampant allegations of delays in skytrain extensions because they benefitted the opposition Democrat Party in Bangkok. (Actually, it benefitted the Bangkok people the most...)
Indeed, the skytrain started in 1992, and there are still unused pillars on the river dating to that time (see the Phra Pokklao Bridge near Chinatown). Political interference resulted in cancellation in 1992 of the original "Lavalin Skytrain" designed after the model Vancouver SkyTrain.
Wikipedia also has more information on the Bangkok BTS skytrain.
If you looking for apartments or condos near the Skytrain, for rent or for sale, that is what's in greatest demand and you'll see a lot of rapid private development there.
---
---
---
Additional, children pages of this current parent page:
Skytrain BTS :


---
Copyright 1999 - 2022 by Mark Evan Prado, All Rights Reserved.
Notably, I get quickly notified of copies of tracts by the CopyScape / CopySentry automatic search engine & notifier.
Short quotes are often OK and can be approved, if there is a clear reference and web link back to my website from the quoted material, and if you send me a short message. I try to help people with good intentions, and try to help the world. Not thieves. Links back to this website are helpful for sustainable progress, thank you!
Please have honor and class by following intellectual property and internet protocols. Be a good kind of person in life.
---