Buses in Bangkok
You can go practically anywhere in the greater Bangkok metropolitan region by bus. Their scope is amazing. At the ends of some bus routes, you can hop to other means of transport to provincial hubs. The price is incredibly cheap.
Contents of this section:
Do You Really Want To Take The Bus?
How To Use The Buses
Minivan Buses -- The Best Alternative!
These days, most expats seem to use the minivans, so you may want to skip down to that section.
Do You Really Want To Take The Bus?
Advantages:
CHEAP -- from 2.5 baht to 25 baht maximum from one edge of town to the other
Don't need to explain to taxi driver where to go; buses go most everywhere
Compared to driving, no need to find parking, deal with one-way routes, bad drivers, etc.
Disadvantages:
During rush hour, the buses are crowded with no seating
Pollution is bad on the roads waiting for the bus (sometimes heat, too)
Need a bus map in English; destinations written on bus are in Thai (some exceptions)
Slower than taxis, skytrain, motorcycle taxis, driving
Most buses stop service around 10-11pm (last one leaves station to start route at 10pm)
If you shop much, then better to carry your bags back via a taxi or your car than on a bus
For those without cars, the buses offer savings over taxi fares, and you might be amazed how much the savings add up over a week. For those with cars, alternative transport can relieve you from a lot of Bangkok road hassles and risks.
However, when you take the bus, I suggest you keep a few hundred baht in your pocket for a taxi ride home, along with your address written in Thai, in case you get hopelessly lost ... or carried away on your adventure into the night.
How To Use The Buses
Since the writing on most of the buses is all in Thai, i.e., there is little or no English, then the only two things to go by are the bus number and bus type. You will need a bus map of the BMTA (government bus) routes, such as is covered in the ThailandGuru section on Maps. On bus maps, be careful to match the BMTA bus number with the type (color) of bus, e.g., the blue bus number 11 doesn't always take the same route as the red or green or purple bus number 11, though they usually do.
The buses don't automatically stop at every bus stop. They stop only if someone waves them down or someone is getting off. Turn your palm down and wave them in with your fingers, as shown in our photo of waving down a vehicle.
There are several kinds of bus, shown below. Note: The bus rates quoted below are years out of date, and actually the bus information is, too, but I will still include it here instead of delete it, just to give you an idea of the system, and today's system is similar to that of yesteryears, except the buses are newer and more modern for the most part.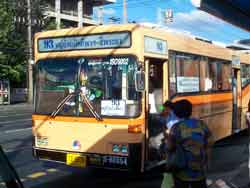 The "cream" (or orange) colored air conditioned buses are the newest and most spacious. The fare starts at 10 baht for the first several kilometers, and goes up slowly from there, to a maximum of 20 baht.

These buses have started putting English destination signs on the side.
The blue air conditioned buses cost 8 baht for the first 8 kilometers, and the rate goes up slowly from there. A very long ride across town may cost around 20 baht.
The purple MicroBus charges a flat rate of 25 baht regardless of distance, but stops only if there is an available seat, i.e., does not have standing people. No problem except during rush hour when they sometimes fill up and won't stop for more passengers. Air conditioned. Need exact fare, as no change is given back.

The MicroBus is different in that there is no fare attendant. You drop money into a slot. See detailed instructions below.

This Microbus has a big number 3 on it, and most are 2-digit numbers. Others which have a small 4-digit number are shuttles to the nearest skytrain station. (These are a subset of Microbuses bought for the skytrain, but they didn't change their color or appearance otherwise.)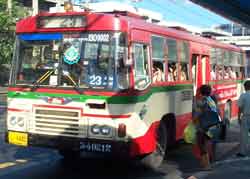 The open-aired (non-air-conditioned) red buses cost 3.5 baht during the day and 5 baht after midnight, flat rate regardless of distance. Notably, many of these became free of charge in 2008 as part of a measure to help the poor (and help the politicians who cater to the poor vote). If you're an expat, I'd recommend you not freeload on one of these.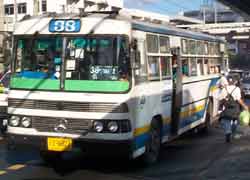 The open-aired white buses cost 5 baht, sometimes a little more after midnight. Flat rate regardless of distance.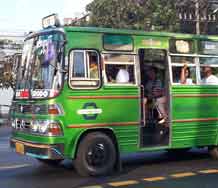 The small green buses should be avoided, but cost 2.5 baht. These have been called "the unloved buses" because they belch choking black pollution, the drivers are aggressive, and their routes are confusing and change often. Forget the bus maps. If you aren't Thai and familiar with where the particular bus is going (e.g., yelled out the window by the fare attendant), then don't take a chance.
A few new kinds of buses were added in 2008, brand new, and running on compressed liquified natural gas instead of diesel or gasoline. These are pictured at the bottom of the page.
All the buses, except the MicroBus, have an employee who walks up and down the bus to collect the fare. You take a seat first and wait for the fare-taking attendant to come to you. The fare of the air conditioned buses varies with distance, so when the attendant walks up to take your fare, you speak the name of your destination, e.g., "Sukhumvit 49". They usually know numbers in English. However, the fare of the non-airconditioned buses is a flat fee, whereby you need say nothing to the attendant. With both, they give you a tiny paper receipt. Keep this, because sometimes an auditor boards the bus and checks everyone's ticket.
The purple MicroBus is different (see photo). When you board, you drop 25 baht into the slot next to the driver. His side of the money drop box has a window, and he briefly looks thru the window to verify that you dropped in the correct amount. Then he presses a button and a receipt gets printed out. You should be sure to keep this receipt on hand, because the MicroBus has spot-checking auditors who sometimes board the bus and check all receipts. Where the receipt printer is located varies. Usually, it's next to the drop box, above and towards the inside of the bus. Sometimes it's behind you, against the window towards the inside of the bus.
When you want to exit the bus, you press the red button next to the door (or on the ceiling of the MicroBus) which makes a beep and/or turns on a red light for the driver to notice.
The air conditioned buses stop operations sometime between 10pm and midnight. Usually, the last bus leaves its station of origin at 10pm and arrives at bus stops sometime thereafter.
Most of the non-air-conditioned buses also stop at 10pm, but some run all thru the night, a subset of bus numbers/routes. However, the buses after midnight come less frequently, typically once or twice an hour, and many of these have no empty seats, though you won't be standing long since there's little traffic late at night. Also, you don't need an air conditioned bus at night, as the heat and pollution stop being issues.
Minivans - An Alternative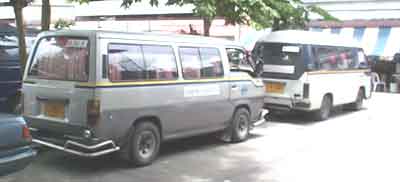 Minivans emerged in large numbers in the late 1990s like those pictured above, to fill in gaps in mass transportation. Some routes duplicate the BMTA bus routes more or less, whereas others serve people commuting to and from communities outside Bangkok which are not served by the BMTA buses. Some take the expressway.
These minivans are faster because they fill up quickly and stop picking up passengers when they are full. There are 3 or 4 rows of seats in the back (usually 4), each carrying 3 people, plus two more can fit in the front seat. If you have long legs, then you may fit only in the front. It's a little bit tight but worth it. Some of these buses simply wait until they fill up before their leave their origin. Others will fill up partially, and after a measured amount of time waiting (they operate in teams of vans) they will depart and then try to pick up riders from the next few stops or all along the way. When full, they zip on. But if someone gets off, then they start hunting for another rider.
During rush hour, you usually need to get on at the origin of a van. During non-rush hour, you can often wave one down, and it may be half empty.
The only way to know where they're going is usually by reading their big sign on the dashboard (which they reverse when they turn around) or else the writing on the side of the van. It's almost always in Thai only, no English. Some operators call out their destination over a loudspeaker at the point of origin. (In my opinion, if you live or work in the same place regularly, then you should be able to read those words in Thai.)
The fare varies, typically between 20 and 30 baht. Payment is sometimes the opposite of the big city buses -- you pay the van driver when you exit, usually. Some expressway van cars (like near our office) fill up at the origin and do not take on passengers along the way, so it has become a convention for the people in the back row of seats to put their money together, then hand it to someone in a seat in the next row, and on to the front, i.e., the passengers pass their money around on an honor system, and it eventually makes its way to the driver.
Our office is located near a minibus origin/destination center, Muang Thong Thani. The minibus gets on the expressway near our office and gets off at the Victory Monument expressway exit, then parks there by the entrance ramp for passengers going in the other direction. Since Victory Monument also has a skytrain station, as well as being Bangkok's main bus hub, it makes it quick and easy for our employees to go between home and office by cheap public transport, quickly. Likewise, it's preferable to driving and finding a parking space. Even though our office is located by the expressway, it still costs money in expressway tolls, petrol and parking. Better to take the expressway van car to the skytrain station.
(These minivans are supposed to be registered with the BMTA, and those with yellow plates generally are. However, more than half of the minivans are operated "privately". In mid-2000, there was the first hiccup in service as authorities started cracking down on private minivans who did not pay their concession fee, and then there was a strike as the private minivans complained about alleged bribes and protection payments they had to make. There had been several warnings. It inconvenienced commuters for a day and hit the press, and from what I can tell was resolved fairly quietly behind the scenes in the usual Thai compromising way.)
News as of October 2004:
In the Thailand Guru section on public transportation, it has been pointed out to me, correctly, that the website was in error when it reported that the expressway crosses the skytrain at only one point, Victory Monument. Obviously, it also crosses where Sukhumvit becomes Phloenchit. This is relevant for people who prefer to live in the suburbs and take public transport in the form of minivans down the expressway to a skytrain station.
Victory Monument is a bus and minivan hub -- clearly the biggest in Bangkok -- and numerous buses and minivans get on/off the expressway right there at the huge double-ringed roundabout designed for bus transfers. As the skytrain also stops at Victory Monument, it has become an even more prominent public transport hub. That's the only skytrain-expressway link previously covered by the Thailand Guru.
At the Sukhumvit-Phloenchit skytrain intersection with the expressway, there is no such capability, nor could there ever be, as the area is fully developed with no space for it.
Nonetheless, I went there to see if any buses or minivans got on/off the expressway at Sukhumvit. Precious few did. The main service is a set of minivans parked at the CalTex petrol station beside the Phloenchit skytrain station. These go to (1) The Mall Ngam Wong Wan, (2) Muang Thong Thani (www.MTTBKK.com), and (3) Sai Mai. They end early, some destinations before 7pm.
In contrast, Victory Monument has countless cycling minivans to zip you down the expressway to many destinations, and some destinations like Pakkred / Muang Thong Thani continue until after 1am. I've caught them after 3am on weekends, and never needed to take a taxi from Victory Monument to Pakkred / Muang Thong Thani. That's one reason I work and live out there, but not the only reason! :) www.MTTBKK.com
Official Websites of Bus Operators
The website for the MicroBus, as advertised on the MicroBus, didn't work for me. Please update me when it starts working.
The BMTA (Bangkok Metropolitan Transport Association) is the authority organization that runs the buses and other Bangkok mass transport. The BMTA have an English language website at http://www.bmta.motc.go.th/index-e.html but it's limited in its usefulness, in my opinion.
This BMTA website has the following info:
Bus fares
Bus schedules
Bus routes -- a listing of stops
Unfortunately, this website doesn't provide easy to use information. Shortcomings of the website:
No maps to go with the bus routes
No search engines or other tools to help you find buses from point A to point B; the best I could do was browse the bus routes and try to use my web browser's Find feature (and spell the street name correctly in Roman)
A list of buses in different regions, 1 to 10, but no overview of which numbered region was where ...
No listing of MicroBus lines (at least, I couldn't find it)
A verbal color description of the different buses, and one photo area flashing different kinds of bus, but they would have better put multiple still photos up next to each bus description
---
A few new kinds of buses were added in 2008, brand new, and running on compressed liquified natural gas instead of diesel or gasoline.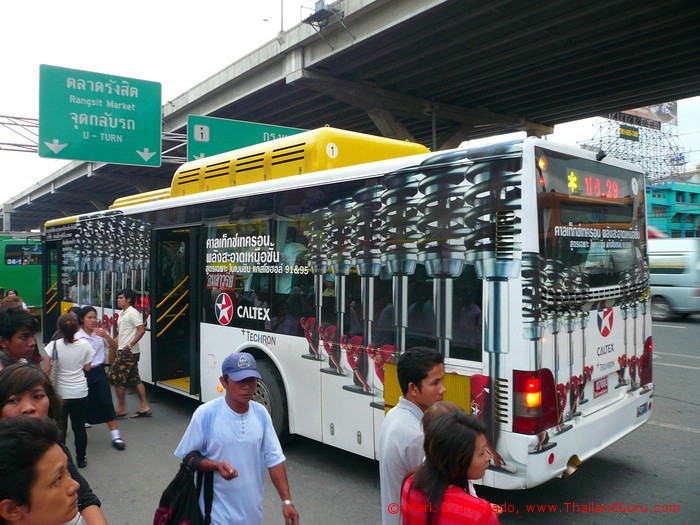 ---
---
---
---
Copyright 1999 - 2023 by Mark Evan Prado, All Rights Reserved.
Notably, I get quickly notified of copies of tracts by the CopyScape / CopySentry automatic search engine & notifier.
Short quotes are often OK and can be approved, if there is a clear reference and web link back to my website from the quoted material, and if you send me a short message. I try to help people with good intentions, and try to help the world. Not thieves. Links back to this website are helpful for sustainable progress, thank you!
Please have honor and class by following intellectual property and internet protocols. Be a good kind of person in life.
---
Services discussed on Thailand Guru are provided by our friendly staff in our family of 3 companies:
Lucky Lion Pride Co., Ltd., centrally located on Sukhumvit soi 2
Prado Property Co., Ltd. co-located on Sukhumvit soi 2
Export Quality Services Co., Ltd., co-located on Sukhumvit soi 2

Led by two longtime expats from the USA and New Zealand
and supported by many good, skilled longtime Thai staff,
customers usually find us a delight to work with.

Please click here for how to contact us
Please make an appointment before stopping by.

Ploymitr Bldg., Floor 7
Sukhumvit soi 2
Klongtoey, Bangkok 10110 THAILAND

© Copyright 1999- 2023 by Mark Prado, All Rights Reserved.

More information on Thailand and some surrounding countries can be found in the Travels section of the personal website of Mark Prado, the author of ThailandGuru.com
DISCLAIMER: Although efforts have been made to ensure the information on this website was correct at the time of electronic publication, ThailandGuru and all its associates do not assume and hereby disclaim any liability to any party for any loss or damage caused by errors, omissions or misleading information resulting from negligence, accident or any other cause. If you choose to take any of this advice, it is at your own risk and no other entity's. ThailandGuru and its associates will take no responsibility. The only thing we guarantee is that our website information can take bandwidth, memory and/or disk space, at least temporarily. Guru is relative.