Clubs and Meetings in Thailand
In addition to the nice change of scenery and environment, one of the best things about Bangkok is its international social element. You meet a lot of expats from different parts of the world, of course the vast majority of them not from your own country.
(I came from the highly educated and more international communities of Washington, D.C., professional circles, but upon my arrival I found the almost purely private sector part of Bangkok's expat community to be quite refreshing.)
Bangkok has a variety of expats. In addition to the usual working expats who may seem to have a lot on their mind and little time to socialize, there are also a whole lot of adventurous tourists and wise old retirees with lots of time on their hands and who can be very friendly and engaging. Most expats are here because they like Bangkok for many of the same reasons others do.
Clubs and meetings are an easy way to meet good people and make friends.
One of the best websites on the internet for meetings of many sorts is the generalist MeetUp.com , just specify Bangkok. It will normally detect your IP address where you currently are. If you're in Bangkok already, then it's very inexact about your location, e.g., putting me in Nonthaburi when I was very far from there, so increase the range to about 50 kilometers, or else specify another location. If you're overseas, then you will need to manually specify Bangkok. Of course, many good clubs have not submitted their information to MeetUp, so please suggest to them that they do so.
Any suggestions you have, please send them to us, too!
Exhibitions (at the bottom of this page) bring the latest technologies, fashions, business and educational establishments together in one place and time to browse around amongst. Bangkok, as a popular regional center, has many exhibitions at its large exhibition facilities!
The following are a mix of some professional and nonprofessional venues.
Rotary Clubs - Many chapters in Bangkok, some expat and English dominant but others Thai
Other Chambers of Commerce, notably the socially active Australian-Thai Chamber of Commerce
---
American Women's Club of Thailand at www.AWCThailand.org
Australian and New Zealand Women's Group at www.ANZWG-Bangkok.org
British Women's Group of Bangkok at www.BWGBangkok.com
Australians in Thailand at www.AIT.org.au
New Zealand Society of Thailand at www.nzsocietythai.org
The British Club at www.BritishClubBangkok.org
---
Expat Women - Helping Women Live Overseas at www.ExpatWomen.com
Bangkok Mothers and Babies International for expat mothers, at www.BAMBIweb.org
---
Foreign Correspondents Club of Thailand (FCCT) - Well attended events
Engineering, Architecture, and Construction (Lighthouse Club) - Well attended monthly meetings plus golfing group, mainly expat managing directors, high level managers, and businesspeople in loosely related fields like law, finance, etc.
---
Small groups:
Bangkok Bookcrossers Club, English only, meets the first Tuesday of each month at 6:30pm at Kuppa on Sukhumvit 16, with 11 people in September 2007. See also www.BookCrossing.com, the international site.
Unknown seriousness or continuity:
International Book Club in Bangkok, English only, meets last Wednesday of every month at Books@53 near Thonglor skytrain station. I don't know how serious this club is or anything about its continuity.
Community Services of Bangkok (CSB)
Other sections of interest:
Sports clubs, leagues and venues
Leisure places
www.ChristChurchBangkok.org - Christ Church Bangkok
Thailand has many Rotary Club chapters, but before attending you should find out whether the meetings are in the Thai language or in English. Often, it's mainly Thais who speak Thai, and thus not so good for most English speaking people. A list of chapters in Thailand can be found at the international Rotary Club website at www.rotary.org and particularly the Thailand search page. I have stopped listing local Rotary websites because they just disappear, and you will find that some of the websites on the abovementioned search page are also dead links now. This includes the official Rotary website in Thailand www.rotary.or.th (now dead) which previously listed a great number of rotary sites in the Kingdom with both English and Thai versions (but not specifying which language different chapters used). www.rcth.org (dead) covered English speaking chapters. The Thai language www.thairotary.org also died. Maybe one of them will come back to life someday, but for now you just get awful generic advertising pages when you go to those web addresses.
An exception is the Rotary Club of Pattaya at www.rotary-pattaya.org , which is an English and German speaking Rotary Club founded in the year 2000 and active since then, including many community projects. The President for 2007-2008 is John Botting.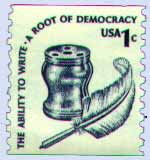 You don't need to be a journalist or correspondent to attend or to become a member. This organization has continued to go strong since my arrival in 1994, though not all events are well attended. See their website for more info, at www.fccthai.com

Lighthouse Club -- Expat Engineering and Construction
The expat engineering and construction community has the Lighthouse Club as its main (and pretty much only) social organization. Its monthly socials on Sukhumvit 33/1 are well attended, with a different company sponsoring a keg or two of beer. The Lighthouse Club is a loosely knit international organization with chapters in various countries. The Bangkok chapter has a website at www.LighthouseBKK, or you can contact the secretary of the club at lighthousebkk@hotmail.com or at the alternative addresses on the website. (I am the webmaster of their website, and have been consulting largely in engineering and construction since 1995.)
Other Chambers of Commerce have various events. I have attended some of the American Chamber of Commerce events, and they are good for socializing and some relevant networking. The American Chamber is not just Americans but has highly active members from other countries, too. The different chambers vary in this regard. For schedules of events, see the websites of the individual chambers, as listed in the Thailand Guru section on Working -> Chambers of Commerce
The Australian-Thai Chamber of Commerce is one of the more active chambers as regards social activities, e.g., their Sundowners gatherings on the first Wednesday 6pm of every month, which are well attended -- on the order of 100 people sometimes. These are open to everyone, not just members, albeit at 750 baht for nonmembers (2007). The venues rotate between 5 star hotels (before 2001 it was at the Australian Embassy but this has changed). Their website at www.austchamthailand.com/ is usually out of date, so it's better to get on the e-mail mailing list by contacting Kathy Lindsay at austcham@loxinfo.co.th
This is a weekly group gathering open to everyone. After it was announced in newspapers and websites a few times, and seemed to have some continuity, I attended on January 25, 2004, at the Bourbon Street restaurant on Sukhumvit soi 22. That meeting had 12 gentlemen and one nice Thai lady, and word had it that the week before had about 25 people. The people I met were fairly low key types, most of whom were semi-retired or retired. For more information on the Expats Association of Bangkok, contact MekongKurt@BangkokAtoZ.com , the creator of www.BangkokAtoZ.com
When I first came in 1994, I was referred to the Community Services of Bangkok as a good general expat meeting and support place. I went there once, and it turned out to be a boring, plodding institution with little going on. The few people I met there were related to foreign government programs in Bangkok, mainly spouses. Now, 12 years later, I still see occasional referrals around to CSB which surprises me, as well as the occasional website mentioned (which does not really exist), and for years when I called the telephone numbers there was either no answer or else a "closed" recording in the middle of the day, no schedule given, and no ability to leave a message. What they do, and where they get their money from to support their substantial prime area real estate and office arrangements, I don't know, but I do know they initially got their money from a grant by the U.S. Department of State. Unless and until I receive information to counter the above, my advice at this time is to give them a miss. The best info I could find is at www.scottmurray.com/community_services_of_bangkok.htm and mainly covers counselling services, which they may still provide. I don't know because I still can't contact them (as of 2007, the time of this writing, 13 years later). (However, I did discover an interesting website by a CSB associate, Canadian journalist www.ScottMurray.com who has apparently been working in Asia since around the time I arrived, though I've never met him myself.)
---
I haven't heard much of the Lions Club in Thailand, but they have a real Thai government postal service issued stamp commemorating the Lions Club in Thailand: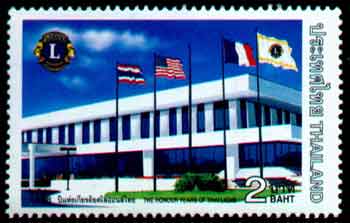 I did find the "Bangkok Cosmopolitan Lions Club" at 10 Soi Soonvijai, New Petchburi Road, Bangkok, Thailand, Tel: 02-318-1518. Any other information would be appreciated. The main website of the Lions Club at www.LionsClub.org has a selection called "Club Locator". If you choose Thailand then it asks you to click on the letter of the city name. Clicking B for Bangkok gives you a long list of districts and provinces starting in B, including Bangkok. Clicking on them gives some database information but I didn't see any websites, and some don't even have a telephone number or email address.
---
Some people, including myself, enjoy going to exhibitions and trade fairs. Check the schedules below for any of interest to you. I suggest you do further research on any events which appear that they may be of interest to you, and the list of exhibitors if available. Some are great, some are duds.
The Queen Sirikit National Convention Center is fairly spacious and has a full itinerary of exhibits, often many different expositions going on at the same time in different parts of the center. The Queen Sirikit National Convention Center is located near the center of the Sukhumvit expat area, on Asoke-Ratchadapisek Road, with its own subway station just one subway stop south of the Sukhumvit subway station, and adjacent the Queen Sirikit Park.
The Impact Exhibition Center boasts of being the largest in southeast Asia, and is located right off the expressway in Muang Thong Thani, Nonthaburi, with many minivans running there from Victory Monument and the Mochit skytrain station.
The BITEC International Trade and Exhibition Center is located at the corner of Sukhumvit Road and Bang Na Trad, and rounds out the big three Bangkok exhibition centers.
Between these three, there's usually a good variety of things going on every month.
---
---
---
> Clubs, Meetings, Events
---
Copyright 1999 - 2022 by Mark Evan Prado, All Rights Reserved.
Notably, I get quickly notified of copies of tracts by the CopyScape / CopySentry automatic search engine & notifier.
Short quotes are often OK and can be approved, if there is a clear reference and web link back to my website from the quoted material, and if you send me a short message. I try to help people with good intentions, and try to help the world. Not thieves. Links back to this website are helpful for sustainable progress, thank you!
Please have honor and class by following intellectual property and internet protocols. Be a good kind of person in life.
---
Services discussed on Thailand Guru are provided by our friendly staff in our family of 3 companies:
Lucky Lion Pride Co., Ltd., centrally located on Sukhumvit soi 2
Prado Property Co., Ltd. co-located on Sukhumvit soi 2
Export Quality Services Co., Ltd., co-located on Sukhumvit soi 2

Led by two longtime expats from the USA and New Zealand
and supported by many good, skilled longtime Thai staff,
customers usually find us a delight to work with.

Please click here for how to contact us
Please make an appointment before stopping by.

Ploymitr Bldg., Floor 7
Sukhumvit soi 2
Klongtoey, Bangkok 10110 THAILAND

© Copyright 1999- 2022 by Mark Prado, All Rights Reserved.

More information on Thailand and some surrounding countries can be found in the Travels section of the personal website of Mark Prado, the author of ThailandGuru.com
DISCLAIMER: Although efforts have been made to ensure the information on this website was correct at the time of electronic publication, ThailandGuru and all its associates do not assume and hereby disclaim any liability to any party for any loss or damage caused by errors, omissions or misleading information resulting from negligence, accident or any other cause. If you choose to take any of this advice, it is at your own risk and no other entity's. ThailandGuru and its associates will take no responsibility. The only thing we guarantee is that our website information can take bandwidth, memory and/or disk space, at least temporarily. Guru is relative.