Houses, Condominiums, and Apartments in
Koh Samui, Hua Hin, western Gulf of Thailand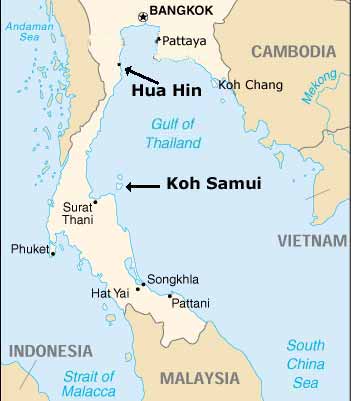 Koh Samui and Koh Phangan
Koh Samui is the third largest island (Phuket and Koh Chang are larger) at 247 square kilometers, and is located 20 km off the southern Thailand peninsula approximately 700 km from Bangkok, on the Gulf of Thailand side. Just north of Samui is Koh Phangan.
Koh Samui is much further behind Phuket in its development, though it has been booming since around the year 2000. Like Phuket, Samui has beautiful beaches and scuba diving operations, and is a popular tourist destination including top class hotels, but Samui does not have either the quality or nearly the number of villas and apartments to foreign standards. Samui is more mountainous and better preserved in its natural environment. However, it's infrastructure is strained, and its roads are not nearly the same quality as Phuket's or the mainland's in terms of size.
The main tourist and expat areas are in the northeastern part of the island. Chawaeng is chock full of hotels, restaurants, and nightlife, and it all tapers down with distance from Chawaeng, more or less.
The airport near the northeastern tip has flights connecting to Bangkok, Phuket, Chiang Mai, U-Tapao (near Pattaya, many chartered flights), and Singapore. There have been discussions for connections to Hong Kong and elsewhere.
I've driven to Samui (while already in the region), taking the car ferry from Surat Thani province, but flying in is best. Bangkok Airways has a monopoly on flights from Bangkok. For getting around Samui, I would recommend renting a motorcycle and wearing sunscreen. Taxis, motorcycle taxis, and public transport (sawng tao) are not as cheap as elsewhere in Thailand. Forget the "Meter" in the "Taxi-Meter" because it's never used, and instead the fee is always negotiated in advance, which turns out to be much more than the cost per distance in Bangkok.
Koh Phangan island is starting to develop, though there is some resistance due to environmental protection interests.
Ecotourism and scuba diving excursions to other islands usually goes from Bangkok.
---
I've been working for an investor for building quality villas in Samui. I must say that the construction infrastructure is not nearly as good in Samui as in Phuket and of course Bangkok, and it is a challenge finding architects, engineers and project managers who can put together a whole project with complete quality.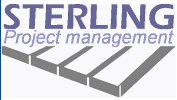 www.Sterling-Thailand.com is Sterling Project Management, which is involved in construction management in Koh Samui.

---
Hua Hin and Cha-Am
Hua Hin is another rapidly growing seaside area in the Gulf which is a little over two hours from Bangkok. The beaches are nice. Compared to Pattaya and the eastern seaboard, Hua Hin has lower land prices, there is much less nightlife for those who prefer a more peaceful and pure environment, it's much less crowded, and the water is cleaner (runs clockwise in the Gulf, and no big cities or industry downstream). On the other hand, there is a less extensive selection of restaurants and general expat support, though there is still plenty of variety.
Cha-Am is another popular seaside community near Hua Hin you should visit while you're in this area, about 30 minutes north along the beachside highway.
If you like more quiet and better preserved nature, try Prachuab Khiri Khan about an hour further south from Hua Hin. There isn't much expat infrastructure down there, but it's quite livable for many.
In the opposite direction, slightly closer to Bangkok that Hua Hin, is Petchaburi province, a somewhat popular Thai tourist spot which has nice beaches and quite a few expats, as well as a sizeable city nearby of the same name. (Actually, Cha-Am is technically in Petchaburi province near its southern edge, but it's much closer to Hua Hin in its links and ambiance.)
---
If you have children, then you should also see the section on schools.
This website has a separate page on our Personal Home "Guide" Service.
To view some specific properties, please visit kkBkk.com
For anything else, you can email the Thailand Guru here
---
Other regions:
---
---
---
Additional, children pages of this current parent page:
Koh Samui, Hua-Hin, Cha-Am :


---
Copyright 1999 - 2022 by Mark Evan Prado, All Rights Reserved.
Notably, I get quickly notified of copies of tracts by the CopyScape / CopySentry automatic search engine & notifier.
Short quotes are often OK and can be approved, if there is a clear reference and web link back to my website from the quoted material, and if you send me a short message. I try to help people with good intentions, and try to help the world. Not thieves. Links back to this website are helpful for sustainable progress, thank you!
Please have honor and class by following intellectual property and internet protocols. Be a good kind of person in life.
---
Services discussed on Thailand Guru are provided by our friendly staff in our family of 3 companies:
Lucky Lion Pride Co., Ltd., centrally located on Sukhumvit soi 2
Prado Property Co., Ltd. co-located on Sukhumvit soi 2
Export Quality Services Co., Ltd., co-located on Sukhumvit soi 2

Led by two longtime expats from the USA and New Zealand
and supported by many good, skilled longtime Thai staff,
customers usually find us a delight to work with.

Please click here for how to contact us
Please make an appointment before stopping by.

Ploymitr Bldg., Floor 7
Sukhumvit soi 2
Klongtoey, Bangkok 10110 THAILAND

© Copyright 1999- 2022 by Mark Prado, All Rights Reserved.

More information on Thailand and some surrounding countries can be found in the Travels section of the personal website of Mark Prado, the author of ThailandGuru.com
DISCLAIMER: Although efforts have been made to ensure the information on this website was correct at the time of electronic publication, ThailandGuru and all its associates do not assume and hereby disclaim any liability to any party for any loss or damage caused by errors, omissions or misleading information resulting from negligence, accident or any other cause. If you choose to take any of this advice, it is at your own risk and no other entity's. ThailandGuru and its associates will take no responsibility. The only thing we guarantee is that our website information can take bandwidth, memory and/or disk space, at least temporarily. Guru is relative.
Menu: Site Map