Nature
Adventure Tours
Bicycling
Bird Watching
Flying
Golf - in Sports section
Running, Jogging, Hash House Harriers - in Sports section
Scuba Diving
Swimming (coming someday)

In alphabetical order:
The website www.wild-planet.co.th which covers rafting, mountain bike riding and other adventures. They also offer "team building" exercises, using facilitators, in custom tailored programs for corporate clients.
South East Asia LiveAboards (SEAL) in Phuket offers adventure cruises, diving, sailing, surfing and kayaking, at www.seal-asia.com
Mountain biking is popular in Thailand. You can rent or buy gear here. There are also some groups who do biking tours together. I haven't heard of many who are well organized or have an Internet presence, though. There's an established company, Bike & Travel, which organizes biking and canoe trips, a family business founded in 1995. Their website www.CyclingThailand.com is sometimes down.
Precious few people and crazy enough to try to get around on a bicycle in Bangkok, except within suburban housing villages where a bike ride is nice in mornings and evenings. Bangkok is flat and ordinary bikes are cheap.
There is a beautiful assortment of birds in Thailand. A good place to start is the Bird Conservation Society of Thailand (BCST) at www.BCST.org where you must click on English on the home page. It provides information on birds, and there are frequent meetings and field trips.
Another bird watching group is Nature Trails, who have a friendly website at www.NatureTrailsThailand.com
You can take flying lessons and get certification from the Thai Flying Club, located at the Bang Phra Airport in Sri Racha, a place in-between Pattaya and Bangkok. For more info, see www.ThaiFlyingClub.com
With the difficult streets and vehicle pollution in central Bangkok, many people prefer to go to a park to jog.
For people in the Silom-Sathorn-Bangrak area, a favorite place is Lumpini Park (corner of Rama 4 Rd. and Wireless, near Silom, Ratchadamri skytrain station). This is a large and popular park.
On Sukhumvit, some people go to the lake and tobacco monopoly around the Queen Sirikit National Convention Center on Asoke (south of Sukhumvit), or else the park next to the Emporium which has a skytrain station.
In the suburbs, there are more joggable roads, plus there are more open areas such as universities and sports fields.
There are several chapters of the Hash House Harriers (HHH) in Bangkok and elsewhere in Thailand. I've run with them, and they turn out a large pack of people, often 40 or more, a fairly even mix of expats and Thais. It's also a good way to see different parts of the city.
A good source for general information is Thai Diver Magazine. They have a website at www.ThaiDiver.net . There's also a good informational website at www.DiveThailand.net which has links to many websites besides the commercial ones listed below, and book recommendations. Note that both of these are a dot net, not a dot com, whereas the dot com is someone else's Thai language website.
PJ Scuba, also known as www.Learn-In-Asia.com (LIA), teaches scuba diving, as well as training scuba diver instructors, and provides internships for recreational, technical and professional scuba divers. LIA also offers quality assurance services, as well as training for Teaching English as a Foreign Language (TEFL).
In Bangkok, there's Planet Scuba, which has training in Bangkok and also organizes trips, particularly to Koh Samui and Koh Tao, as reported on their website www.planet-scuba.net -- a dot net, not to be confused with the dot com, a German language website elsewhere.
For the Andaman Sea, there's Andaman Scuba at www.AndamanScuba.com ; Colona Diving and Tours at www.diving-thailand-phuket.com ; Dive Asia www.DiveAsia.com ; the Phuket Scuba Club at www.phuket-scuba-club.com ; the Phi Phi island Diving Center at www.phiphi-scuba.com ; Santana at www.SantanaPhuket.com ; Scuba Cat at www.ScubaCat.com ; Scuba Quest at www.scuba-quest.com ; South East Asia LiveAboards (SEAL) in Phuket at www.seal-asia.com
For both the Andaman Sea and Koh Samui, there's Ocean Rover Diving Cruises at www.ocean-rover.com ; and Easy Divers at www.ThaiDive.com
For the islands near Chumphon, there's the Chumphon Cabana Resort and Diving Center at www.cabana.co.th
Specializing in Koh Tao is Scuba Junction at www.scuba-junction.com
To shop for scuba diving equipment, you may note from Thai Diving Magazine (noted above) that they team up with equipment provider Siam Divers in Koh Samui and in Bangkok on Sukhumvit 55, Thonglor soi 25. There's also Siam Diving Enterprises which has a store at The Emporium (Sukhumvit) and a website at www.scuba-diving-equipment.com
Coming soon.
It's also easy to meet people in certain kinds of expat and tourist leisure places, especially if you're new to Bangkok, and some of these people have lots of experiences and suggestions.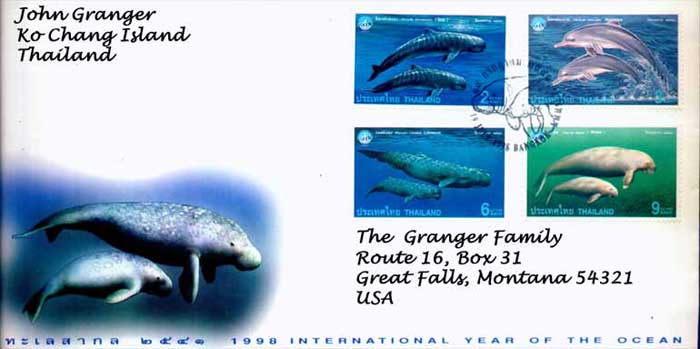 ---
---
---
Additional, children pages of this current parent page:
Nature :


---
Copyright 1999 - 2021 by Mark Evan Prado, All Rights Reserved.
Notably, I get quickly notified of copies of tracts by the CopyScape / CopySentry automatic search engine & notifier.
Short quotes are often OK and can be approved, if there is a clear reference and web link back to my website from the quoted material, and if you send me a short message. I try to help people with good intentions, and try to help the world. Not thieves. Links back to this website are helpful for sustainable progress, thank you!
Please have honor and class by following intellectual property and internet protocols. Be a good kind of person in life.
---