How & Where to Pay Bills
In most western countries, you pay bills by writing a cheque and mailing it to the utility company. But in Thailand, this isn't the way things are done, and besides, it's not quick and easy for a farang to get a checking account.
If you live in a condominium, then you'll probably pay at the front desk. (Often, you'll pay more per unit than the utility company charges them...)
If you live in a house, then you're looking at ways to pay electricity, water and telephone.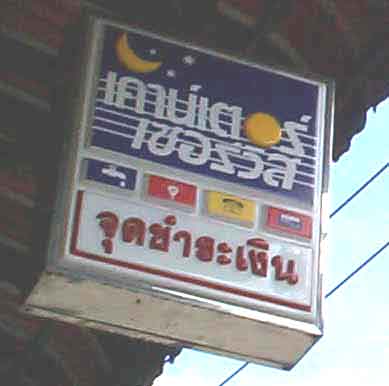 The best place to pay bills, in my opinion, is at 7-11 stores which display the sign to the left, usually near the 7-11 sign. Not all 7-11 stores have this second sign, and thus not all 7-11 offer this service. In the future, you might see these signs in other places, too, as it's a separate company from 7-11 which offers this system.
You just walk in and give your bills to the counter attendant. After you give them your money and your bills, they will go to a computer, type in the information, then give you your bills back with receipts stapled to them. They don't need to keep any of your paper documentation. They charged me a 10 baht service fee per bill.
The sign on the left shows water, electricity, telephone and pager pictures near the bottom. However, there are other signs which are identical except for the four pictures near the bottom, and you can go there nonetheless for the same things.
There are some bills that some people can't pay there. For example, my housing village gets water from an underground aquifer rather than from the city, in which case I must pay for water at a company in my housing village.
I like the service outlets pictured here because the company that provides it has done a good job to make it a complete service. The 7-11 computers are well connected, seemingly better than the banks when it comes to paying bills, as I discuss below.
Alternatively, you can pay some bills at your bank. For example, as of September, 2000, my bank, Siam Commercial Bank, would handle my mobile phone bill but not electricity at my local branch.
Some service providers print their bank name and account number on your bill so that you can deposit money into their account at any nearby branch. You go to a branch of their bank and fill out a deposit slip to their account number, then present the teller with the deposit slip, the cash, and your bill. The teller enters your information so that the payment is identified as yours. However, not all service providers really have their computers linked to all the bank's and branches' computers. In these cases, the teller just wants your deposit slip and the cash, not your bill which identifies who's paying, which means that you must then fax the service provider the deposit slip (e.g., for some Internet service providers).
Two disadvantages of the bank are that the lines in the bank are usually very long, and the bank lobby hours are limited to 9:30am to 3:30pm.
You can also pay some bills at some government post office branches. I've never tried this and would like to know what anyone else's experience is. For more information, see www.ptd.go.th
Of course, you can also pay bills at the offices of the service providers themselves, but that usually entails transportation and finding the particular office for bills paying, which is often not easy to find nor nearby.
I use the 7-11 stores which have the above sign, any time of the day or nite.
The only catch is that you must pay them before the expiration date on the bill. If you miss the expiration date, then they simply cannot process the bill. You must go to the phone company or electric company or water company, however far away that is -- and good luck finding out where. In the past, it needed to be the right district branch, too. Then, you must wait in line a long time. If your electricity is ever turned off for nonpayment, then you could have a real headache, depending on the district.
Just don't let the bill expire!
Tip: If you are moving into a rented property, then you are strongly advised to check the status of the bills by requiring that you see the payment receipts (even though you can't read them if you can't read Thai). Sometimes, a previous tenant will not pay the bills for the last two months, intending to have the cost deducted from their deposit (which is the wrong thing to do, but many people play hardball). This creates a situation where the electricity could be cut off. I've seen this happen several times to new tenants, including on a Friday afternoon, which meant no electricity until well into Monday.
---
---
---
Additional, children pages of this current parent page:
Paying Bills :


---
Copyright 1999 - 2022 by Mark Evan Prado, All Rights Reserved.
Notably, I get quickly notified of copies of tracts by the CopyScape / CopySentry automatic search engine & notifier.
Short quotes are often OK and can be approved, if there is a clear reference and web link back to my website from the quoted material, and if you send me a short message. I try to help people with good intentions, and try to help the world. Not thieves. Links back to this website are helpful for sustainable progress, thank you!
Please have honor and class by following intellectual property and internet protocols. Be a good kind of person in life.
---
Services discussed on Thailand Guru are provided by our friendly staff in our family of 3 companies:
Lucky Lion Pride Co., Ltd., centrally located on Sukhumvit soi 2
Prado Property Co., Ltd. co-located on Sukhumvit soi 2
Export Quality Services Co., Ltd., co-located on Sukhumvit soi 2

Led by two longtime expats from the USA and New Zealand
and supported by many good, skilled longtime Thai staff,
customers usually find us a delight to work with.

Please click here for how to contact us
Please make an appointment before stopping by.

Ploymitr Bldg., Floor 7
Sukhumvit soi 2
Klongtoey, Bangkok 10110 THAILAND

© Copyright 1999- 2022 by Mark Prado, All Rights Reserved.

More information on Thailand and some surrounding countries can be found in the Travels section of the personal website of Mark Prado, the author of ThailandGuru.com
DISCLAIMER: Although efforts have been made to ensure the information on this website was correct at the time of electronic publication, ThailandGuru and all its associates do not assume and hereby disclaim any liability to any party for any loss or damage caused by errors, omissions or misleading information resulting from negligence, accident or any other cause. If you choose to take any of this advice, it is at your own risk and no other entity's. ThailandGuru and its associates will take no responsibility. The only thing we guarantee is that our website information can take bandwidth, memory and/or disk space, at least temporarily. Guru is relative.
Menu: Site Map