Postal Mail, International Couriers, and Thailand Addresses
---
Thai Post Offices
The Thai postal system is very reliable, efficient and economical.
A common service used is EMS or Express Mail Service, which requires a signature by the recipient. The EMS service is offered both domestically and internationally. There is a nice web site on international EMS at www.cat.or.th/new/ems.htm though unfortunately it was still under construction as of March 2000.
For sending packages overseas, you can do the packing at the post office, as they have a packing counter where you can buy packing materials at a very economical rate, and sometimes get assistance. If you are shipping anything in a box, then the standard procedure is to tie a string around the box so that it can be opened and peeked into by customs to verify that what's on the customs slip is what's in the box. If you seal it, then you pay a much higher rate.
There are post offices conveniently located all over the city, and are listed on some of the maps in the map section.
The post offices are open from 8am to 4:30pm, though some don't like to take international parcel shipments after 3:30.
If you don't yet have an address at which you wish to receive packages, then you can receive packages on hold at most branches of the post office. This is called the "poste restante" service. You should ask the sender to PRINT your name clearly, and underline it, too. It will probably be filed under your surname, but sometimes will be under the first name.
The central post office is located near the river on thanon Charoen Krung (about halfway between its intersections with thanon Surawong and thanon Si Phraya). It runs longer hours and is also open on the weekend. Monday-Friday 8am to 8pm, and weekends 8am to 1pm. (You can also make international phone calls there, which is open 24 hours.)
The Post and Telegraph Department (PTD) has a dual-language website but it does not include postal rates or a list of offices on a map as far as I can find. The main web page is at http://www.ptd.go.th and if you click on the button for English then you go to http://www.ptd.go.th/ptdmain_eng.htm. It seems that more information on postal services can be found on the website of the government agency which oversees the PTD, namely the Communications Authority of Thailand, and specifically their web page at www.cat.or.th.
Notably, do not use the post office Money Order service for international transfers. You don't get a money order cheque. It's a farce. Go to a Bangkok Bank or a Thai Farmer's Bank instead. There is an alluring advertisement on the website of the Communications Authority of Thailand (who is in charge of the post offices) at http://www.cat.or.th/new/postal.htm, and you'll see a Money Order place in post offices. Again, don't use it.
Courier Services - International
There are several established international couriers. The main ones are listed below. Others can be found by visiting outlet stores around Bangkok such as Mailboxes, etc., which handle outgoing packages for most or all of the courier services, are located in convenient places around Bangkok, and can help you with packing. The major courier services will also pick up packages from you if you call them. If you have no fixed address in Bangkok, you can have packages shipped to the main office and held for pickup. Make sure you give the sender your phone number, and get back from them the package's airway bill number. You can track the location of the package by Internet as given below.
DHL is currently the biggest and longest established international courier in Bangkok, but the others are now catching up.
Note: When you receive shipments, you may have to pay customs duties on them.
Note: When you send something, you let the courier seal the package, as the content must be inspected before it can be shipped.
DHL
Tel.: 02-207-0600
Grand Amarin Tower, Floor 22
1550 New Petchburi Rd.
Makkasan
Bangkok
This is a big green-blue building with yellow trim, on Petchburi between Soi Nana Nua and Asoke. Note: take the elevator in the "high zone" for floors 20+.
More info on DHL can be found at: http://www.dhl.com
DHL shipments can be tracked at: http://www.dhl.com/track
Federal Express
Tel.: 02-367-3222
Green Tower, Floor 8
Rama 4 Rd.
Bangkok
More info on Federal Express can be found at: TBD
Federal Express shipments can be tracked at: TBD
UPS (United Parcel Service)
Tel.: 02-712-3300
16/1 Sukhumvit soi 44/1
Bangkok
More info on UPS can be found at: TBD
UPS shipments can be tracked at: TBD
If you go to places like Mailboxes, etc., you may come across some additional vendors of international transport, especially for surface rates. For example, one is called SAL (Sea, Air and Land). If you use these, then we would like to hear of your experiences. I've noticed that the CAT / PTD have added this to their website, though it was still under construction as of March 2000. Stay tuned at www.cat.or.th/new/sal.htm
Addresses in Thailand
Finding an address is usually difficult in Thailand. You normally need directions from someone, and most businesses provide a map. Why?
Unlike in most western countries, street addresses in Thailand are not sequential order as you go down the road. They are usually in the order in which the structure was built, so that house number 12 can be next to house number 53, and house number 11 can be a kilometer away!
The street name is usually NOT on the address on Thailand, except in central Bangkok and a few other places, especially for homes. However, even in Bangkok, while you have the street name, the address numbers are still not in order so you still have somewhat of the same problem as in the provinces, though at least you know you're close, maybe within a kilometer or two ... but that's still a lot of area to hunt around for.
Before I present city addresses, let's first look at the standard for nationwide addresses.
Thai addresses are usually in the form:
XXX/YYY Moo ZZ
T. aaaaaaa
A. bbbbbbb
City, Province, Postal Code
For example:
765/345 Moo 12
T. Ban Mai
A. Pakkred
Nonthaburi, 12345
In the latter example, the 765 (XXX) is the house group, and the 345 (YYY) is the house number within the group. You will find house groups mixed up with each other, so that going down a soi you may find 56/234 beside 56/789 beside 56/987 beside 41/2 beside 41/3 beside 56/876 beside 98/321, and you may find 56/232 a kilometer away from 56/233. The groups tend to designate the age of the house, i.e., a building phase.
Then there is the Moo, also spelled Mu or abbreviated M., which is the village number, so the example designates village number 12 within Tambon Ban Mai.
Each province is split into about 5 to 25 districts called Amphur, and each Amphur is split into many Tambon, and then each Tambon is split into many Moo groups. In the address above, T. is Tambon and A. is Amphur. People often put in M. for Moo.
In the cities, you can have addresses like this:
321/456 Sukhumvit soi 39
Klongton-Nua, Wattana, Bangkok 10110
The difference is that it has a street name instead of a Moo number (instead a soi number, see next paragraph). Also, they tend to drop "Tambon" and "Amphur" words, though that's what Klongton-Nua and Wattana are, in this example.
Most city addresses will have a "soi" number. The main roads have perpendicular streets going off both sides, which are called "sois" and are even numbered 2, 4, 6, etc., on one side and odd numbered 1, 3, 5, etc., on the other side. As you go down the road, they tend to get out of sync so that soi 71 can be across the street from soi 48, but they are always in order on the same side of the street, i.e., before soi 48 is always soi 46.
Many sois usually have a name, too, for example, Sukhumvit soi 4 is called soi Nana (well known), but the name of the soi is usually not specified, only the number, and if you said a typical soi name, most people wouldn't know where it is, but if you say Sukhumvit soi 39, they know generally where that is!
However, once you find the soi number, the office and house addresses are normally not in order, so you have the same problem as in the provinces and suburbs, such as "I'm now on Sukhumvit soi 39, but where is house 321/456?" In the city, people usually don't know each other, unlike in the countryside, so you better have clear directions. If it's a business, then ask the motorcycle taxis because they normally know.
If you need to find a place, the best thing to do is ask the person you are trying to find, and get directions like this: "From Sukhumvit Road, go to Sukhumvit soi 39, turn left, go 1.2 kilometers to L'Opera Restaurant, turn left again, go 50 meters to turn right at the next sub-soi, then go down another 80 meters and our house is on the right, number 321/456" or something like that.
In the countryside, once you get close enough you can often just ask for a person's family name and someone will know. The problem is getting close enough, because there are no signs saying "Mu 5 this way, Mu 6 that way". You can see addresses with Mu numbers on them and ask someone where is Mu 12, and keep getting closer and closer ...
On a weekday, you can call or go to the post office to ask. On a weekend, you can find the Tambon village headman's house and go ask him, and someone may even take you to the home. Otherwise, you can ask around, but people don't remember house numbers and it's best to ask for names, and hope they know who you are looking for.
However, in the end, the best thing to do is just get directions from the person or place you are seeking out.
---
The Thailand postal service creates many beautiful stamps, and philatelists like myself and my wife collect the most beautiful ones, but we are careful to not send valuable things in the mail with beautiful stamps on them, only letters which can be reprinted later if they disappear somewhere in the foreign postal services. Sending things domestically, inside Thailand, is not a problem.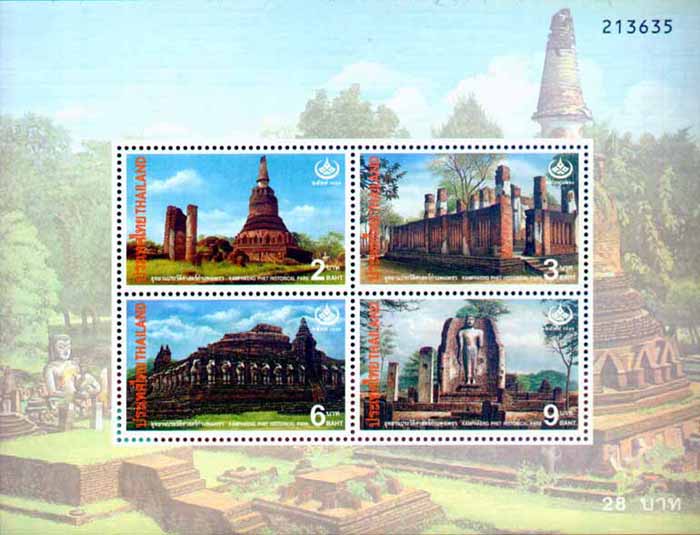 ---
---
---
Additional, children pages of this current parent page:
Post Office, FedEx, etc. :


---
Copyright 1999 - 2022 by Mark Evan Prado, All Rights Reserved.
Notably, I get quickly notified of copies of tracts by the CopyScape / CopySentry automatic search engine & notifier.
Short quotes are often OK and can be approved, if there is a clear reference and web link back to my website from the quoted material, and if you send me a short message. I try to help people with good intentions, and try to help the world. Not thieves. Links back to this website are helpful for sustainable progress, thank you!
Please have honor and class by following intellectual property and internet protocols. Be a good kind of person in life.
---