Magnified Map of Housing in
Rangsit - Pathum Thani
and Nonthaburi (northern suburbs)
The four expressways are shown in red (as are other expressways in central Bangkok). Pathum Thani is in the brighter green, and the neighboring region called Nonthaburi is in dark green. The airport is in blue.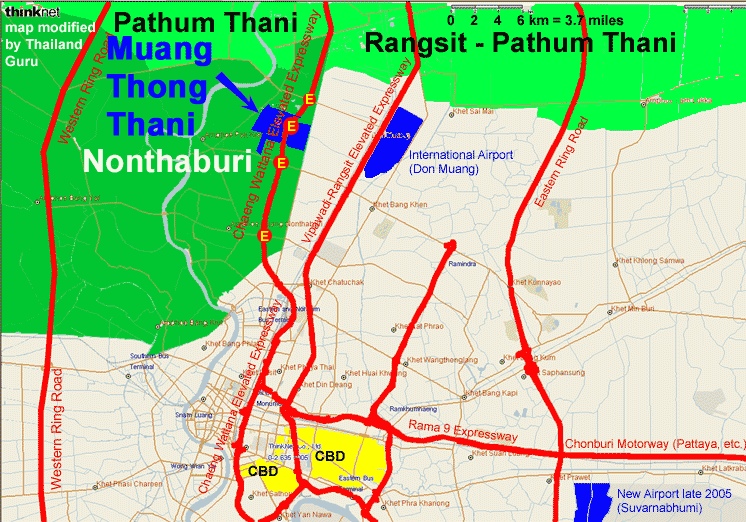 North of the Don Muang International Airport is Pathum Thani, which has a lot of housing estates and wide open spaces, dotted with superstores and modern malls such as Future Park Rangsit.
The eastern part of Pathum Thani is called "Rangsit".
This region is connected to the central business district by two scenic elevated expressways, the Vipawadi-Rangsit Elevated Expressway and the Chaeng Wattana Elevated Expressway, as shown on the map below.
On the outside, the Eastern Ring Road connects you to the eastern suburbs and Eastern Seaboard Industrial Zones, and likewise for the Western Ring Road.
Please hit your Back key or Alt <- to return to the previous page.
---
---
---
Additional, children pages of this current parent page:
Bigger map :


---
Copyright 1999 - 2022 by Mark Evan Prado, All Rights Reserved.
Notably, I get quickly notified of copies of tracts by the CopyScape / CopySentry automatic search engine & notifier.
Short quotes are often OK and can be approved, if there is a clear reference and web link back to my website from the quoted material, and if you send me a short message. I try to help people with good intentions, and try to help the world. Not thieves. Links back to this website are helpful for sustainable progress, thank you!
Please have honor and class by following intellectual property and internet protocols. Be a good kind of person in life.
---