Bangkok Suburban Housing
The suburbs are linked to the central business district by scenic elevated expressways about 20 meters (60 feet) above the ground. Out in the suburbs, traffic is much better, and you will find the usual shopping conveniences in most places. The only difference is that the population density of foreigners is much lower.
You can get a large house with a yard at a much lower price than near the city center, and a quiet, spacious neighborhood that the kids can ride a bike around in.
ThailandGuru / kkBkk.com have split the suburbs into 5 regions as shown on the map at the bottom of this page, and discussed in detail on separate pages of their own:
The commute times can be less or more, depending on time of day and location of office and home. I have routinely commuted in shorter times from all these locations.
These suburban areas, which are the suburbs with the most expats, are denoted as green in the map below. The expressways are in red, and the skytrain is in blue (as well as the river being blue). Click on any large green region for more information on that region (same links as above).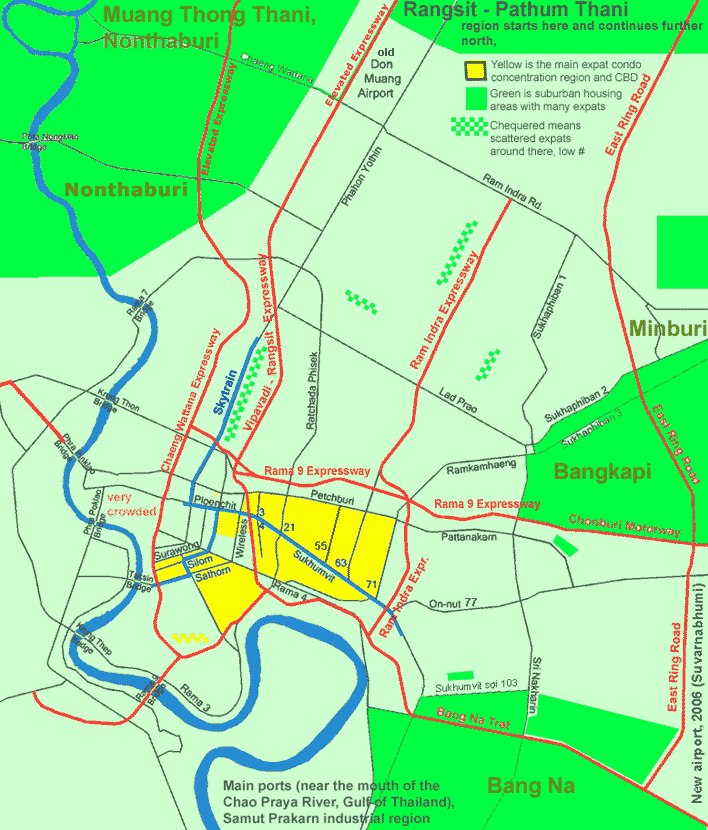 kkBkk.com has an easy list of Bangkok suburban houses, condos and apartments.
If you want a good guide or real estate agent, then please visit kkBkk.com and click on their contact page, or else contact the Thailand Guru here.
---
---
---
Additional, children pages of this current parent page:
Bangkok Suburban :
Bang Na, Suk. 101-107, SriNakharin
Bangkapi, Minburi
Rangsit, Pathum Thani
Nonthaburi, Muang Thong Thani
Bigger map
Ram Indra - Ekamai


---
Copyright 1999 - 2022 by Mark Evan Prado, All Rights Reserved.
Notably, I get quickly notified of copies of tracts by the CopyScape / CopySentry automatic search engine & notifier.
Short quotes are often OK and can be approved, if there is a clear reference and web link back to my website from the quoted material, and if you send me a short message. I try to help people with good intentions, and try to help the world. Not thieves. Links back to this website are helpful for sustainable progress, thank you!
Please have honor and class by following intellectual property and internet protocols. Be a good kind of person in life.
---