Housing in Nonthaburi
and Muang Thong Thani
(northwestern suburbs)
A northern suburb of Bangkok west of the old Don Muang International Airport is Nonthaburi, a very large region most of which is on the other side of the Chao Phraya River. It ranges from densely populated old Thai areas with government offices on the Bangkok side of the river (i.e., the east), to more residential and modern Thai neighborhoods amidst rice paddies and less densely populated old Thai areas on the west side, and features a large number of diverse housing estates.
The part of Nonthaburi of interest to most expats is the eastern part on the Bangkok side of the river, where international schools, luxury gated communities, and modern shopping are mostly located within this region. However, there is quite a diversity of living accommodation in Nonthaburi, including economical condos and houses.
This region is connected to the central business district by two elevated expressways -- the scenic Chaeng Wattana Elevated Expressway, and the Vipawadi-Rangsit elevated expressway with dual surface road underneath. A third expressway on the other side of the river is the Western Outer Ring Road which connects you to industrial areas to the north and south but does not connect to the Bangkok expressway network yet.
The skytrain and subway do not reach out to Nonthaburi or Pathum Thani, and you generally rely on the expressway vans to take you to the station, usually at Victory Monument. Alternatively, taxis are most plentiful, though the taxi fare plus tollway is considerably higher. The distance is longer, but the time is the same since you drive down expressways rather than sit in traffic.
Nonthaburi is one of the oldest and most developed suburbs of Bangkok. The reason for this is because Thai agrarian people historically lived along waterways, and Nonthaburi was slightly upstream from Bangkok. This also explains why there are so many government offices in Nonthaburi, rather than in the city center of Bangkok or other suburbs.
Unfortunately, the expressway jams in the morning, due to so many neighborhoods in Nonthaburi. The expressway runs parallel to the river, offset inland a few kilometers. However, if you avoid the peak times, you'll be OK, by going in either shortly after sunrise or else waiting until rush hour dies down.
On the map below, the airport is in blue, Nonthaburi is in the darker green, and Pathum Thani to the north is in the brighter green. You can click on the map to get a magnified and more readable version. Expressways are colored red, and the red circle E spots are expressway exits in Nonthaburi for NgamWongWan Rd., Chaeng Wattana Road, Muang Thong Thani, and Sri Saman.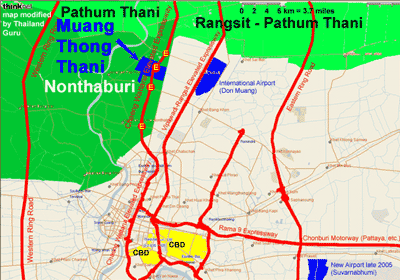 Generally, regarding the two expressways going north, looking on a map it may seem odd to a Bangkok newcomer that the government would choose two expressways to go so close to each other, but it was most reasonably chosen this way. The Vipawadi-Rangsit elevated expressway is directly above Bangkok's first expressway going past the old airport and north out of town, and everything around it tends to be more industrial and older. The Chaeng Wattana elevated expressway was located closer to the river in order to serve the densely populated neighborhoods and link the Nonthaburi government office region. It previously ended at Muang Thong Thani, but later was extended to go all the way thru Pathum Thani and link up to the ring road just inside Ayutthaya Province. Once you get past Muang Thong Thani, it gets scenic as the population density drops off markedly and eventually the expressway is going alongside rice fields on both sides.
On this website, I call the western expressway the "Chaeng Wattana" expressway because it originally ended around there (and Muang Thong Thani), and also because Chaeng Wattana Road was becoming a major expat suburban residential area.
There are two main roads in Nonthaburi, both crossing the expressway as the two exits in this suburban province. One is the abovementioned Chaeng Wattana. The other is Ngam Wong Wan Road, going more into the city. Ngam Wong Wan Road changes name to Rattanatibet as you go west.
Ngam Wong Wan (a mouth full) is a densely crowded old Thai area without many expats (an exception being some backpackers seeking cheap accommodation within lots of infrastructure). It includes the second Pantip I.T. shopping mall near the expressway (though it is not as expansive as the Pantip shopping mall in the city center) and a short distance further in is The Mall Ngam Wong Wan, a large and modern shopping center, though not quite as glitzy as many malls elsewhere. Rattanatibet has nice Thai gated communities of luxury houses.
Chaeng Wattana Road is more modern and not as densely populated. It features newer and more artistic shopping malls, such as the 8 level Central Plaza Chaeng Wattana to the west of the expressway, and Seventh Avenue to the east, in addition to various superstores.
Muang Thong Thani (MTT) is just past the corner of the expressway and Chaeng Wattana Road. Best known for the immense Impact Convention Center where there is a constant stream of trade shows (largely international) in the various exhibition halls, MTT is a story in itself, as discussed at www.MTTBKK.com, initially designed to become a satellite city center just before the 1997 Asia crash. Beyond MTT, it's mainly just beautiful new housing estates, spread out independent houses, and open fields.
Of particular interest is the neighborhood Nichada Thani, located near Chaeng Wattana Road, behind Central Plaza, which has the International School of Bangkok (ISB), offering the American curriculum as well as the IB (International Baccalaureate), with around 200o students which consist of about 80% foreign students, i.e., only about 20% Thai. Nichada Thani has built its own exclusive road which connects it to the expressway interchange at Chaeng Wattana Road. Going thru the gates into Nichada Thani, it's like leaving Thailand and entering California. If you want to see sample houses in Nichada Thani, then please contact us so we can give you a list of links.
Our property website covers houses for rent in Nonthaburi, including near the International School of Bangkok (ISB), but mostly spread around other neighborhoods which are vast majority Thai.
There are also condominiums and apartments in this area. The older ones are in Muang Thong Thani, such as the row of highrise Lakeview Condominiums which are reasonably spacious and quite economical, mostly 2 bedrooms but having some 3 bedroom units, as well as cheap condos near the MTT market which go for just a few thousand baht per month for a studio or one bedroom unit. The conveniences of MTT are remarkable, with lots of restaurants and small shopping.
It's important to judge this region by time, not distance. The Chaeng Wattana elevated expressway is usually a wide open drive, except during rush hour coming in towards town in the morning. It can take the same amount of time to get 20 km to your exit within the central business district as it can take you to get the next 1 or 2 km, or just down a soi in some parts of central Bangkok.
Some of the river bridges are choke points for traffic, so living on the west side of the river is not recommended if you don't like commute times. Also, it tends to flood in many places west of the river. It remains largely rice fields there.
From Muang Thong Thani and elsewhere along the roads Chaeng Wattana and Ngam Wong Wan, there is a constant flow of expressway van cars straight to the Victory Monument skytrain station expressway exit, a quick and comfortable public transport commute. Another set of van cars instead exits the expressway at the Silom exit and continues to near the Chong Nongsi skytrain station, dropping off passengers along Silom as they wish.
You can't find another expressway that offers van car commuter service by expressway, besides the Chaeng Wattana expressway. This is a unique feature of Nonthaburi.
The Thailand Guru chose to open an office in Muang Thong Thani for several years (and you may have already gathered that I don't like traffic, pollution or crowds, nor to waste my time getting what I need and to where I must go).
Besides the International School of Bangkok, there are several other schools in this area, including Harrow (British curriculum) which is an overseas branch of the London headquartered chain, St. Andrews Samakee Campus (British), Hamptons (new), Rose Marie Academy (inside Nichada), St. Francis Xavier (Thai but with an English program having expat teachers), and a variety of kindergartens.
Some expats work in an industrial area west of the river, which is overwhelmingly Thai, whereby they live on Chaeng Wattana so that the wife and kids still have connections to other expats and the city. It is a reasonably nice drive across the river and to the west ring road. There are many very nice housing estates out there at very economical prices, and a lot of modern superstores. Chaeng Wattana Road was extended by building a nice bridge over the river in 2007 and roads connecting it to the west ring road. There are many nice new gated neighborhoods out there, albeit mostly Thai.
A fleet of big river boats carries commuters between piers in central Bangkok and Nonthaburi, but that is slow compared to driving down the expressway. The main Nonthaburi pier is not near any expat area (except a condominium complex), and it's an express boat with few stops before it gets to central Bangkok. Nevertheless, it's a nice boat ride, ending/starting at Taksin Bridge in Bangkok where there is a skytrain station. If you try this, then you may want to get on at the Taksin Bridge and see where the boat goes, rather than trying to find piers up-city. You can also transfer to boats going as far north as Pakkred.
Some people go out to central Nonthaburi looking for a really cheap place, where you can find many small townhouses for as low as around 5,000 baht per month in purely Thai neighborhoods where you won't see much besides concrete (and forget what "ground" with exposed dirt and grass looks like), may have difficulty squeezing down the streets among the vehicles, and transport into/out of the city isn't quick, comfortable or so economical. If you want to brag about how you got a great deal and you're nobody's fool, and downplay or keep quiet about the disadvantages, then you're free to do so. However, if quality of life, your time and environment are more important to you than price comparisons with your Cheap Charlie peers, then you may want to look around other recommended regions.
If you are looking to start a business, and if you don't really need to be located in the Sukhumvit-Silom area, then you may want to consider Muang Thong Thani along Bond Street. Opposite to the Sukhumvit-Silom area where demand outstrips supply, Muang Thong Thani is a buyer's/renter's market for modern office space where supply still exceeds demand, and you don't pay central prices. There are already a lot of good potential employees living in that region -- Nonthaburi ranks in the top 3 districts in Thailand in terms of population, and the education level tends to be higher in the general community there, which is "old Bangkok" along the river, not so migrant. As regards employees living elsewhere, the bus transport hub of Bangkok is Victory Monument, which has the entrance/exit of the Chaeng Wattana expressway van cars as well as the skytrain, so that employees from other places can go to/from quickly, with guaranteed seating and air conditioning for cheap (20 to 25 baht). Besides the expressway vans to central Bangkok, there are also vans going east to Minburi-Bangkapi.
If you want to go out even further than Nonthaburi, then consider Pathum Thani where I have lived for years, but you should have a car for that.
The former high tech Prime Minister Dr. Thaksin Shinawatra chose to move to Nonthaburi (and his former wife owns big property developments here), and there are many cutting edge technology operations in the Pathum Thani and Nonthaburi areas, such as Software Park, various internet companies and ISPs (good broadband all over), the Asia Institute of Technology (regional), NECTEC, Shinawatra University, and so on.

Unlike central Bangkok, the Nonthaburi and Pathum Thani regions are spatially immense, and it may be a good idea to have a guide show you around initially if you are short on time.
---
Would you like to browse another part of the Bangkok greater metropolitan region?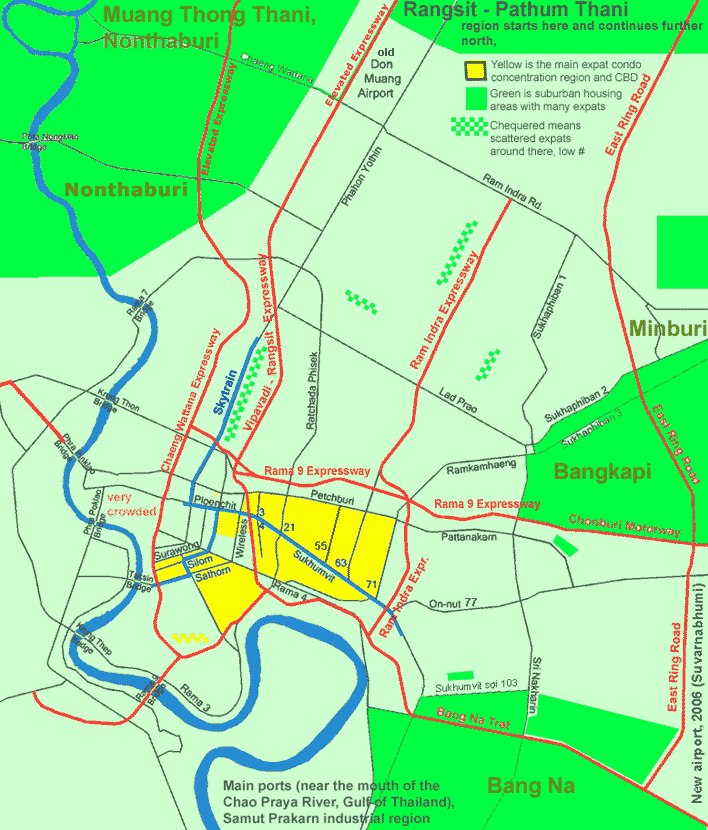 If you want a good guide or real estate agent, then please visit kkBkk.com and click on their contact page, or else email the Thailand Guru here
---
---
---
Additional, children pages of this current parent page:
Nonthaburi, Muang Thong Thani :
Bigger map


---
Copyright 1999 - 2023 by Mark Evan Prado, All Rights Reserved.
Notably, I get quickly notified of copies of tracts by the CopyScape / CopySentry automatic search engine & notifier.
Short quotes are often OK and can be approved, if there is a clear reference and web link back to my website from the quoted material, and if you send me a short message. I try to help people with good intentions, and try to help the world. Not thieves. Links back to this website are helpful for sustainable progress, thank you!
Please have honor and class by following intellectual property and internet protocols. Be a good kind of person in life.
---
Services discussed on Thailand Guru are provided by our friendly staff in our family of 3 companies:
Lucky Lion Pride Co., Ltd., centrally located on Sukhumvit soi 2
Prado Property Co., Ltd. co-located on Sukhumvit soi 2
Export Quality Services Co., Ltd., co-located on Sukhumvit soi 2

Led by two longtime expats from the USA and New Zealand
and supported by many good, skilled longtime Thai staff,
customers usually find us a delight to work with.

Please click here for how to contact us
Please make an appointment before stopping by.

Ploymitr Bldg., Floor 7
Sukhumvit soi 2
Klongtoey, Bangkok 10110 THAILAND

© Copyright 1999- 2023 by Mark Prado, All Rights Reserved.

More information on Thailand and some surrounding countries can be found in the Travels section of the personal website of Mark Prado, the author of ThailandGuru.com
DISCLAIMER: Although efforts have been made to ensure the information on this website was correct at the time of electronic publication, ThailandGuru and all its associates do not assume and hereby disclaim any liability to any party for any loss or damage caused by errors, omissions or misleading information resulting from negligence, accident or any other cause. If you choose to take any of this advice, it is at your own risk and no other entity's. ThailandGuru and its associates will take no responsibility. The only thing we guarantee is that our website information can take bandwidth, memory and/or disk space, at least temporarily. Guru is relative.