One of the best things about being an expat is that you meet much more interesting people in popular overseas expat areas than you do in your home town and most places in your home country.
Before coming to Thailand, I lived in Washington, D.C., for 10 years and worked with a lot of world travellers and highly experienced foreigners, whereby casual travel elsewhere in my country usually resulted in less interesting people on average. Not so when I came to Thailand! The world travellers here are diverse and tend to be the more "outward bound" sorts from their own countries. The expats surviving and fluorishing here are also a cut above the rest back home, on average.
Of course, you will meet all sorts of people, from boring simple sex tourists to wise investors who retired early, as well as dynamic Managing Directors of companies here and high end consultants.
Mainstream Thai entertainment websites tend to be in the Thai language, so there's considerable frustration for expats searching for nighttime entertainment in Thailand.
Nightspots also change often. What's trendy one year is out the next. Sometimes, it changes by the month.
Discos don't really get started until between 10pm and 11:30, depending on the venue. This is a serious problem for some of us here who prefer places which cater to normal working people. I've been hoping that continued enforcement of early closing times would encourage opening times to move back, but not much progress on this to date. Someday, some disco will try something new and different -- and get a big crowd of yuppies. There is lots of good music and good food early on, but not much in the way of discos until late.
Sukhumvit 55 (Thonglor) has a lot of predominantly Thai pubs, and if you have Thai friends who go there, it's worth going with them a time and place or two.
---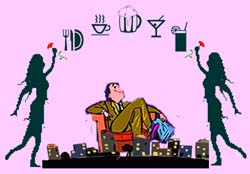 Based on both my logs of website visitors and emails, one of the main areas of demand has been by single expat males interested in the female prostitution scene around Sukhumvit/Patpong/Pattaya. Sorry, but I do not intend to cover this on ThailandGuru, besides the ThailandGuru subsection on Thai ladies in the Culture section, which covers both bargirls and "mainstream" Thai ladies.
Nonetheless, I will make some recommendations to a couple of other websites:
The leading website and messageboard is at www.NanaPlaza.com , which provides guidance in this realm. The messageboard is free, but access to the website comes at a small fee. It is well worth the fee. "Khun Sanuk", the chief content manager of NanaPlaza.com , is about as good a guy as you'll find in the Bangkok nightlife area. Much to the surprise of many people, Khun Sanuk is a young guy who has been happily married to a Thai lady for years, faithful, doesn't drink alcohol, and is brutally honest. NanaPlaza.com is good business for an exceptionally unshady guy who has spent an awfully long time in that area, often as a tour guide.
"Stickman's" website at www.StickmanBangkok.com has lots of commentaries and tips for the social scene in and around the above areas. Stickman's website is entirely free, and is constantly updated. Stickman is a friendly, helpful and socially outgoing guy who is well known in the Sukhumvit and Patpong areas, and has a good sense of humor. Stickman is an English teacher, and has exceptionally good guidance for those considering that profession in Thailand.
I don't agree with everything on those two websites, but what's new...
There are many other websites on the Bangkok nightlife but which are a bit too crude.
---
DRUGS WARNING!
Since my arrival in 1994, I have been to countless nighttime entertainment places -- purely Thai (except me, or maybe a few other expats), purely farang (except Thai ladies), and mixed.
While most of these places are OK, there are many which have a lot of drugs, especially the more expensive "upper end" nightspots. Be careful who you are with. There are a lot of drugs in Thailand -- and arguably, in many other places in the world, too, but Bangkok is up high up on the scale.
Normal people who are here on holidays, and many new expats who aren't familiar with the drugs scene, seem oblivious to the fact that some of the new friends & associates they are socializing with (especially their supposedly upper class Thai ladies) are under the influence of drugs, such as ecstasy (ya-E), amphetamines (ya-ba) and other substances. I, myself, was oblivious to this when I first arrived.
If you doubt that drugs cause brain damage, then read this link. Who are you going to believe -- scientific evidence, or friends who will just believe what they want to believe? It's your brain and your life.
Some of the worst places are upper end discotheques and nightclubs. I could tell you a lot of stories here -- a few things I've seen with my own eyes and heard with my own ears, and much moreso what other guys have told me they've seen and heard. It is my strict policy to not mention places or names, and not point the finger at any particular entity, and just suffice it to say that it's all over the place, and give a few general examples.
My first experience was in a popular Bangkapi disco attended mainly by university students. Suddenly, the lights were turned on and the music stopped. I was shocked at all the drug tablets that people just emptied onto the floor -- you couldn't walk out without stepping on them, like someone broke open a few bags of beans and threw them out on the floor! You could hardly walk off the dance floor without stepping on drug tablets. As we filed out the door, the police sorted the crowd into two sections -- those they knew to be taking drugs (from informants and double agents), and those they didn't have any info on (who could walk away freely). It was discriminate, and done very well.
I've had casual acquaintances, e.g., people in my apartment building in Bangkapi who in an easygoing way have invited me to join a group in their room. I am a fairly nonjudgemental, easygoing and laid back person, easy to talk with and fairly sociable. When I first came to Bangkok, I let my hair grow long, something I chose not to do in my previous business circles in the U.S. I also stayed out later during my first year here. Some people apparently misinterpreted all that. When invited into some groups, I was shocked to see drug usage. These were a mix of university students attending upper end universities, and former university students. (You can guess why some had dropped out, but they still called themselves "students", and the fact that some had no jobs led me to think maybe they sold drugs, too.)
People who party often tend to be a population group with a high percentage of people into drugs, particularly those who stay out very late. After the 1am or 2am closing time, beware particularly of people who leave nightclubs in groups to go together to someone's condo/house/apartment/hotel room.
The worst ones are those who hang out at discotheques.
There is a good reason why this is the law in Thailand -- closure at 1pm or 2pm. It does curb drug use significantly, though of course not completely. Substantially is enough. Amphetamine (ya-ba) usage goes up as the night wears on.
When the nightclubs close at 1am or 2am, go home.
Some people go to late night outdoor restaurants by the street, for some noodle soup or other simple dish. That's nice. However, if your acquaintances also come home late, find out where they've been if you want to get an idea about what they might have been doing.
I continue to have friends and associates tell me about how they found out that their non-bargirl university student girlfriends, who they met in internet chat rooms, discos, and elsewhere, have turned out to be drug users. Some have even turned out to be drug resellers for income, or be secretly prostituting themselves to rich sugardaddies occasionally for their money, or bartering sex for drugs. Late night group forays in high-end hotel rooms are not uncommon. If you see anything hinting at this, then you are hereby forewarned about what might be going on.
---
From a page I had on this website around the year 2000 but it's mostly still relevant ...
There are countless places where you can meet people and sometimes make friends. I have met countless tourists, some being experienced and interesting world travellers whereby I more-or-less barter tips on Thailand for info on their adventures abroad. We're all foreigners in Thailand, and those who don't work here are usually quite open to leisurely conversation in a proper venue, such as bus terminals and stops, open aired beer bars, river boats, etc. Since I also work here, I occasionally strike up conversation with professionally dressed people.
Some particular leisure venues:
Khao Sarn Road is the traditional "backpacker" area, with cheap accomodation and without any of the seedier elements of Bangkok, but this area has changed over the past two years to a predominantly Thai yuppie-of-sorts area. The new backpacker area has moved northwest, along the river, and is much quieter. While this used to be a good place to meet young globetrotting backpackers, and stay for cheap, it's lost a lot of its ambiance recently.
Sukhumvit billiards and open-air beer bars are a common place to socialize -- the outdoor ones without any blaring music or go-go girls. Most beer bars are not really girl pickup places, though some are. I find them good to find conversation with world travellers. There are several along Sukhumvit, e.g.:
Bamboo on soi 3 (Nana Nua), an indoor place about 100 meters from Sukhumvit, has pool tables

Soi 4, in Nana Plaza's center, and also down the road a little bit further

Soi 7 pool hall, about 20 meters from the corner, on the right, a favorite of many expats

Cheap Charlies, about 50 meters down soi 11 on the left, used to be a hangout for professional engineers before the 1997 crash

Artist bars of soi 33, named after Western artists over the past several hundred years, a few of these are lounges frequented more by professional expats, especially on Fridays after work, around 7pm or thereafter. Walk down until you find one with a good crowd.

Bull's Head, soi 33/1, sometimes a good place after work
There are countless nitelife discotheques and go-go bars as covered in the Nitelife section, but these are generally not good places to hold a conversation or meet people. One exception:
On Fridays, around 7pm, a group of expats meet at Woodstock on floor 2 of Nana Plaza, the back right. This is a fairly quiet place with a couple of pool tables, TV and 60s-80s music that isn't loud. Not a bad place anytime. However, on Friday nites, just walk in, turn left, go up a couple of steps, and mix. The food's OK, too. The group at Woodstock is a mix of old-timers and newcomers who originally met on the webboard of NanaPlaza.com (and some of the old-timers probably haven't logged into it in months). Nana Plaza is an intense go-go bar area, and Woodstock is an exception in the complex.
An expat can always cure their loneliness with a prostitute. In fact, they are economical language tutors, so-called "long haired dictionaries" (polite) or "sleeping dictionaries" (crude), at daily labor rates you'd never find in the West. With phrase book in hand, and listening to them talk with others such as vendors, you could be taking some useful steps ... as long as you aren't too under the influence of alcohol, which impairs memory. Some make decent tour guides, too, though you've got to use your judgement in choosing. Class of language is another factor. While you can learn Thai from nearly any bar girl, you will later find out the different choices of phrases which show class. Imagine learning English from a slum vs. an office. You can start in the slum, and maybe can choose a good slum dweller, but should become aware of the differences. Also, pick someone who pronounces phrases clearly, fully, gently and slowly/patiently.
If you learn Thai, then you vastly open up the cultural benefits and intellectual growth of your Thailand experience. Then, when you go back to the expat areas, you'll see just how crude and clueless many veteran expats there still seem.
There are countless Thai nitelife places, such as discos, pubs and the like. Most farangs don't get on well in these places, especially if they have "learned the bad habits and low class Thai language" of Sukhumvit. However, if you dress right, conduct yourself well, and can speak good Thai, then you can meet a lot of higher class Thais at Thai places. I've been doing this for a long time. You generally walk in and sit down alone at first, buy one beer, and check out the place. Though you won't see anyone looking at you, they are, discreetly. If you appear to not be a whoremonger (with farangs, you're almost guilty until proven innocent), then after awhile you might be invited to a drink at a table. If not, then move on to another bar. You stand a good chance if you dress nicely and have a pleasant and friendly look on your face -- if it reflects your real mood.
If you enjoy people-watching as I do, and enjoy being alone, then you may eventually have some interesting experiences at places like shopping malls, especially the beer lounges that are kind've social places. Don't have any high expectations, though.
Making Thai friends is not difficult, as many can speak English and will be happy to practice with you. If you can speak Thai, your scope is greatly expanded. If you are not too pressed for productivity with your time, then you may enjoy going to meet a Thai family or groups of friends on mainstream outings in and around Bangkok.
However, I must emphasize this: Forget about picking up women in the suburbs and purely Thai places, except of course the real hot spots such as on Ratchada Phisek Rd where there are many freelance prostitutes mixed in the crowd. With mainstream ladies, at best you may be able to get is a phone number after the first day.
This is not for most farangs or newcomers, who will have a much better time in the expat social centers.
THe highest class Thais and most meaningful relationships will come not from leisure places but from offices and professional associations.
---
---
---
---
> Leisure > Nighttime Leisure
Additional, children pages of this current parent page:
Nighttime Leisure :


---
Copyright 1999 - 2022 by Mark Evan Prado, All Rights Reserved.
Notably, I get quickly notified of copies of tracts by the CopyScape / CopySentry automatic search engine & notifier.
Short quotes are often OK and can be approved, if there is a clear reference and web link back to my website from the quoted material, and if you send me a short message. I try to help people with good intentions, and try to help the world. Not thieves. Links back to this website are helpful for sustainable progress, thank you!
Please have honor and class by following intellectual property and internet protocols. Be a good kind of person in life.
---