Transportation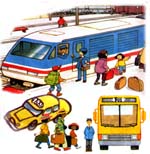 One of the best things about Thailand is the easy, nationwide, ubiquitous public transportation system. Most Thais don't have a motor vehicle of their own, so demand & supply has resulted in cheap transport by a variety of vehicles, covering just about everywhere.
Inside central Bangkok, it is extremely easy. The skytrain, subway, or cheap metered taxis (very inexpensive by overseas standards) will satisfy the needs of the lazy. With a little bit more spirit of adventure, you can beat any traffic jams on a motorcycle taxi, or get out and around the suburbs in the abundance of minivans which zip around and big modern government buses.
For interprovincial and intercity transport, you can learn about the cheap and frequent minivan bus services which seem to crisscross every significant point of interest and then some, with terminal points in many sorts of ad hoc places, and picking up and dropping off passengers along the way, though learning to read place names in Thai becomes necessary. However, if you go to one of the bus stations, you'll get English for the big buses and the more standard service.
Within Thai neighborhoods and along small roads, you'll find open aired little makeshift buses which stop wherever anybody waves them over, and of course motorcycle taxis.
There is a vast interprovince network of high quality highways, and the government has been very good at paving small roads even in sparsely populated areas.
The easiest way to discover how to utilize this system is to just follow a Thai friend to a remote upcountry place they live in.
Importantly, be aware of the times that services end, because upcountry people go home and go to sleep early, and the system shuts down, so don't get stranded somewhere.
Most of the following is on public transport. For information on owning or renting your own vehicle, driver's licenses, insurance, etc., jump down to the section on Driving Yourself below. Be sure to read our advice before driving yourself in Thailand.

Within Bangkok
Bangkok is notorious for its traffic, and parking can be difficult to find and expensive. Metered taxis are ubiquitous, comfortable and economical. The skytrain is fast but very limited in coverage. Using air conditioned buses can save a lot of money but you need the bus maps (there's no English on the bus signs), and during rush hour the bus stops are smoggy and the buses crowded. Motorcycle taxis weaving between stopped traffic are fast but can be dangerous. Boats run the river and some canals.
Outside Bangkok
The trains are a very economical and old style form of transport, but the railway routes are naturally limited. Buses go practically everywhere, and the VIP buses are comfortable and economical. Thai Airways flies to many cities within Thailand. After arriving at your destination by a long range transport vehicle, you must then get around locally by the various short range means, usually a selection of local buses, tuk-tuks, motorcycles and sometimes taxis.
ThailandGuru can answer your questions, help you book your travel arrangements, and deliver your ticket(s) for a small fee. However, if you wish to do it all on your own, then just follow the above links.
Driving Yourself
For the purpose(s) of freedom, convenience, distance and/or transporting heavy things, you may want to rent or buy a car. This section covers purchasing or renting/leasing, insurance, the laws and many tips.
---
---
---
Additional, children pages of this current parent page:
Transportation, Maps :


---
Copyright 1999 - 2022 by Mark Evan Prado, All Rights Reserved.
Notably, I get quickly notified of copies of tracts by the CopyScape / CopySentry automatic search engine & notifier.
Short quotes are often OK and can be approved, if there is a clear reference and web link back to my website from the quoted material, and if you send me a short message. I try to help people with good intentions, and try to help the world. Not thieves. Links back to this website are helpful for sustainable progress, thank you!
Please have honor and class by following intellectual property and internet protocols. Be a good kind of person in life.
---
Services discussed on Thailand Guru are provided by our friendly staff in our family of 3 companies:
Lucky Lion Pride Co., Ltd., centrally located on Sukhumvit soi 2
Prado Property Co., Ltd. co-located on Sukhumvit soi 2
Export Quality Services Co., Ltd., co-located on Sukhumvit soi 2

Led by two longtime expats from the USA and New Zealand
and supported by many good, skilled longtime Thai staff,
customers usually find us a delight to work with.

Please click here for how to contact us
Please make an appointment before stopping by.

Ploymitr Bldg., Floor 7
Sukhumvit soi 2
Klongtoey, Bangkok 10110 THAILAND

© Copyright 1999- 2022 by Mark Prado, All Rights Reserved.

More information on Thailand and some surrounding countries can be found in the Travels section of the personal website of Mark Prado, the author of ThailandGuru.com
DISCLAIMER: Although efforts have been made to ensure the information on this website was correct at the time of electronic publication, ThailandGuru and all its associates do not assume and hereby disclaim any liability to any party for any loss or damage caused by errors, omissions or misleading information resulting from negligence, accident or any other cause. If you choose to take any of this advice, it is at your own risk and no other entity's. ThailandGuru and its associates will take no responsibility. The only thing we guarantee is that our website information can take bandwidth, memory and/or disk space, at least temporarily. Guru is relative.
Menu: Site Map