The Bangkok Central Region and
Central Business District (CBD)
For those totally new to Bangkok, you may first want to orient yourself with the central region of Bangkok, including the Central Business District (CBD) and its surrounding residential areas. While there are no clear cut borders as to what constitutes the so-called CBD and its surrounding residential areas, nor any generally agreed upon conventions, I have first delimited it by places within a few kilometers of the skytrain station, then cut out the places where not many foreigners live, and finally separated the rest into five zones on my map, below, based on the five different and distinct ambiances.
In another section of this website, I cover the suburbs of Bangkok on a separate map, specifically the suburban areas popular with expats. These suburbs are mostly connected to the city center by skytrain.
Exactly where the city center ends, and what is a suburb, is arbitrary, but I go by what the vast majority of people I know agree is a suburb vs. the city center, even though some suburbs have highrise office and residential buildings and high population densities compared to the suburbs of many cities in foreign countries which became highly developed last century. As Bangkok develops, distinctions in ambiance can be reduced.

Central business district (CBD) subregion in yellow, BTS skytrain in dark blue, river light blue, expressways in red: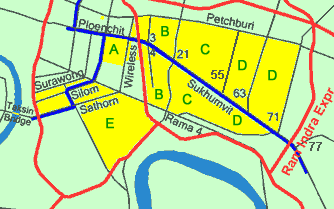 Skytrain stations:
Zone A = Ploenchit, Chidlom, Siam, Ratchadamri

Zone C = Phrom Pong, Thong Lor, Ekkamai

Zone D = Phra Khanong, On-Nut, and upper Ekkamai-RamIndra

Zone E = Sala Daeng, Chong Nonsi, Surasak, Taksin

Zone V (not pictured above) = the skytrain stations strip to the northwest of zones A-E, including Victory Monument, Aree, PhayaThai, lower Vipawadi Road, and around where Phahonyothin crosses Vipawadi Road. Includes skytrain stations Aree, PhayaThai, Hway Khwang, and Sanam Pao.
Sukhumvit residential zones = B, C, and D

Zone B = the main tourist zone on Sukhumvit, dominated by tourist elements along the main road, sois 1 to 21 north, sois 2 to 14 south

Zone C = predominantly expat luxury residential, but with some tourist elements close to zone B; mostly highrise condos & apartments but also a lot of nice houses

Zone D = scattered expats, much less shopping infrastructure oriented to foreigners, but also scattered houses of expat acceptability, mainly old Thai neighborhoods

Patumwan-Lumpini zone A

Highrise apartments and condos with a few office buildings, purely luxurious; no houses

Silom-Sathorn zone E

Purely office highrise buildings, hotels, and nightlife on Silom, Surawong, and Sathorn (northwest zone E)

Old Thai neighborhood with many highrise condos and apartments behind Sathorn Rd., plus some houses of expat acceptability (southeast zone E)
Zone V (not pictured, off top left)
Older but vibrant Thai city neighborhoods with many new highrise apartments and condos mixed with office buildings

Gateway to/from northern BKK (Vipawadi Road, northern skytrain strip)
Note: The designations Zone A, B, C, D, and E are NOT to imply grade or quality of property or location. They are purely geographical designations in alphabetical order with absolutely no origin in any assessment of grade or quality.
Most expats are interested in living in the Sukhumvit residential area, which is zones B, C, and D. Sukhumvit Road starts in zone B, odd numbered sois 1-21 on the north side, even numbered sois 2-14 on the south side, and continues thru zones C and D. Beyond zone D is the "Bang Na" suburban part of Sukhumvit, which is on another map, the green map at the end of this page. The skytrain currently ends in zone D at On-Nut, but it will extend to Bang Na with completion currently projected for 2011.
Zones E and A are largely shaped by the "old Bangkok" business and traditional property zones, whereas Sukhumvit is a relatively newer part of Bangkok. However, by "older" and "newer", there really isn't a significant difference because older zones E and A are places which have been largely razed and replaced with highrise office and residential buildings over time. However, they are still heavily influenced in their purpose by the original old central business district whereby it's business first and residence second in purpose, whereas Zones B, C, and D started as free "suburban" residential areas just a few decades ago (hard to imagine that being called a "suburb" in view of them now) and are still residential first and businesses come second. The concentration of highrises is now about the same, but the ratio of residential to office highrises is higher along Sukhumvit.
Zone A is the relatively small Patumwan-Lumpini region sandwiched between the old zone E and the Sukhumvit residential area, but having a different ambiance than either. Much of the land in this area is owned by the royal family (Crown Property Bureau) and is leasehold. It's separated from zone E by Lumpini Park, and along its border are a polo club, a small golf course, the top university in Thailand (Chulalongkorn), old police-related government buildings, and the large American Ambassador's residence across the street from the American Embassy. It consists mainly of luxurious shopping and high quality highrise apartments and condominiums with some office buildings scattered within, plus a scattering of fine restaurants, spas, and shopping odds and ends. The east border of zone A is the expressway, which also marks where Sukhumvit Road changes name to Ploenchit Road beyond soi 1 by the expressway. Sukhumvit Road doesn't end, it just loses its name. Some of Bangkok's most fashionable central shopping malls are along Ploenchit Road going west, namely Central World, Paragon, Siam Square / Siam Center, Central Chidlom, and Gaysorn Plaza. Nearly all properties in this area are luxurious, and there is practically no land left which hasn't been razed and redeveloped.
Zone V is popular with many expats who want to get more space or quality for their budget than Sukhumvit, while being a short walk from the skytrain, and still enjoying many good restaurants, shopping, and expat conveniences in the area within short walking distance. Many wives and girlfriends like this area because it's practically devoid of sexy Thai ladies who hunt foreign men, in contrast to all of Sukhumvit, yet it's on the same skytrain line, just the opposite end. For those who commute to northern Bangkok or beyond, taking the Vipawadi-Rangsit expressway, and who want to be along the northern end of the skytrain strip, this part of the skytrain line runs parallel to and a short hop from the Vipawadi expressway, above the city center expressway interchange jams, for a quicker commute. For expats working in highrises along Phahonyothin Road or Vipawadi Road, it's a no-brainer that this region is the most convenient. It's just not the main expat area, but it's still got lots of expats who prefer this area.
Many people new to Bangkok ask to live "along the river". In Bangkok, the river banks are not "developed" like in many other countries. There are some nice highrises along the river, passenger ferries up and down the river (many with Thai boat design and coloring), and some charming places along it, but there are precious few parks along the river, and it's mostly old riverside shacks, some hotels, and lots of cement walls, fences, and big ships. For example, there's nowhere to bicycle along the river. Bangkok is not well known for waterfront properties, though there are a few river tracts with charm. It is a muddy river, Bangkok being an amazingly flat sedimentary plane of fine dust and mud, with literally no rocks or sand within tens of kilometers of the river which goes thru Bangkok. Occasional riverfront floods have discouraged some developers. When considering a riverside property, consider the issues of transportation and traffic getting from these areas to the established expat shopping, socializing and business areas in Bangkok, which are mostly not near any waterfront.
Multinational businesses are scattered all around Bangkok, both the CBD and the suburbs, but the oldest and still the main business highrise area is the Silom-Sathorn area, which is the northwestern part of zone E on the map, starting a few blocks from the river. There is an expat residential area in southeastern zone E mixed in with an old Thai neighborhood, but it is not the main region which expats choose to live in. Expats living in zone E tend to be working expats in the corresponding business half of zone E. On the street, there is also a mix of tourists and visiting businesspeople staying in the many hotels in the business highrise and nightlife area of Silom, Surawong and Sathorn. The nightlife of this area is along Surawong and Silom the first few hundred meters from Rama 4 Road, and includes the world famous old Patpong go-go bar complex.
I've saved the most popular for last:
The primary expat residential zone is "the Sukhumvit area", zones B and C on the map above, with a magnified view on the map below, from Sukhumvit sois 1 to 63 on the even side, and sois 2 to 40 on the south side. Zone B is a primary tourist zone with the residential area around the fringe, whereas zone C is mainly residential and quite different. The higher the soi number, the more expat residential it becomes, as well as the further you go down any soi from the main road. The low number sois are where the hotels, serviced apartments, and tourist venues and ambiance dominate. There are not many hotels or tourist attractions beyond soi 33 or 26, and most of it is squarely in zone B, particularly sois 1 to 23 on the north side (plus soi 33 in zone C), and sois 2 to 8 on the southside (plus sois 18 to 26 in zone C).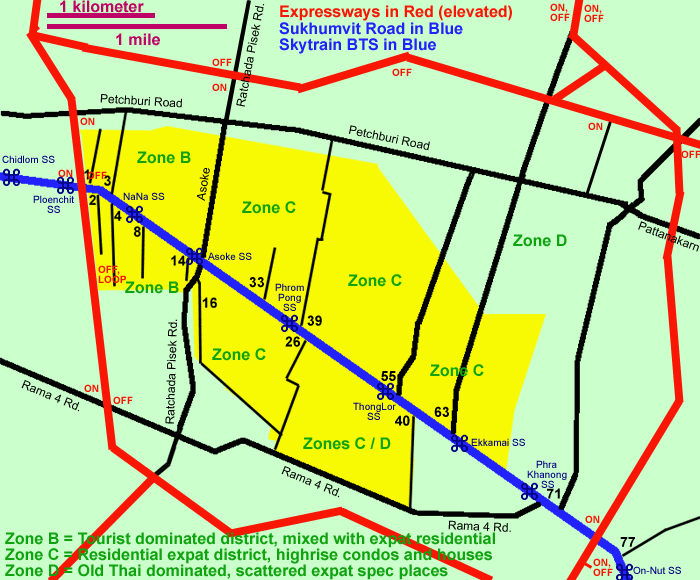 Starting around soi 49, the expat area starts to converge more along Sukhumvit Road, down to about the first kilometer away. The further down these sois you go, the more rustic Thai they become, starting with soi 49. The expat highrise condo region ends shortly after Sukhumvit 63, though some decent houses can be found in some places down past soi 63 in zone D.
On the south side of upper Sukhumvit, the expat region pretty much ends at Sukhumvit soi 28 and gives way to a crowded Thai residential area, though there are some scattered houses and condominium properties that conform to expat standards. I expect this area beyond soi 28 to see substantial development in the future, though that seems to be only in its infancy.
Choice of residential location usually depends on school location for any children, work location, means of transport (rail, car, walking), and traffic flow if driving or taking a taxi. These and other issues are best address on a region by region basis as covered on our sister website www.ssbkk.com, which for each station has points of interest, a decription of the ambiance and elements of the region, and a list of properties in that region as shared with our property website, www.kkBkk.com .
You may also want to browse all condos, apartments, and houses near the skytrain and in this central region, courtesy of kkBkk.com

Besides the central business district, you can also click on some of the suburbans areas of interest on the map below, which will send you to the corresponding page.
---
Would you like to browse another part of the greater Bangkok metropolitan region? Just click on one of the darker green areas on the map below.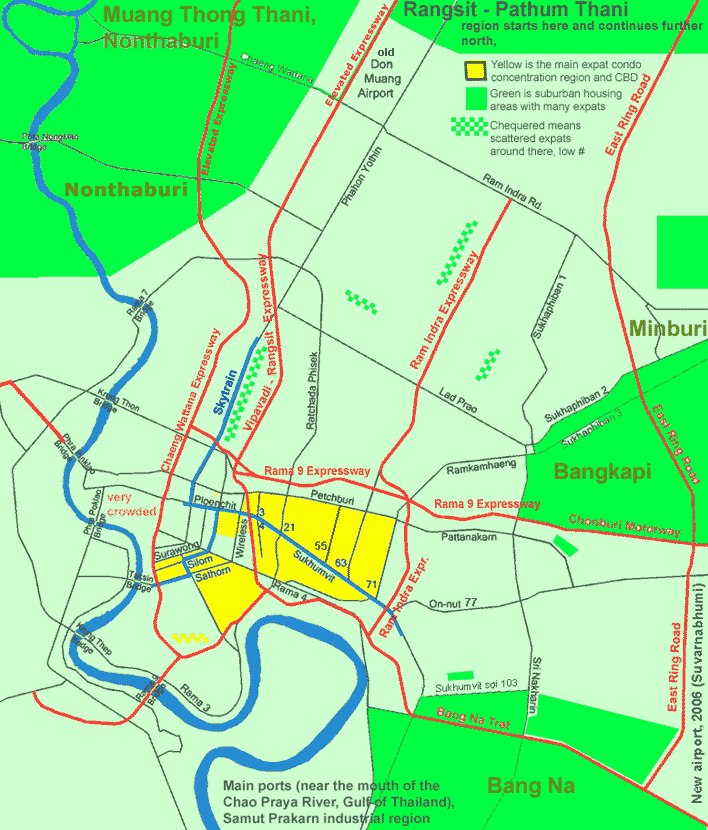 ---
---
---
Additional, children pages of this current parent page:
Central Business District :


---
Copyright 1999 - 2022 by Mark Evan Prado, All Rights Reserved.
Notably, I get quickly notified of copies of tracts by the CopyScape / CopySentry automatic search engine & notifier.
Short quotes are often OK and can be approved, if there is a clear reference and web link back to my website from the quoted material, and if you send me a short message. I try to help people with good intentions, and try to help the world. Not thieves. Links back to this website are helpful for sustainable progress, thank you!
Please have honor and class by following intellectual property and internet protocols. Be a good kind of person in life.
---
Services discussed on Thailand Guru are provided by our friendly staff in our family of 3 companies:
Lucky Lion Pride Co., Ltd., centrally located on Sukhumvit soi 2
Prado Property Co., Ltd. co-located on Sukhumvit soi 2
Export Quality Services Co., Ltd., co-located on Sukhumvit soi 2

Led by two longtime expats from the USA and New Zealand
and supported by many good, skilled longtime Thai staff,
customers usually find us a delight to work with.

Please click here for how to contact us
Please make an appointment before stopping by.

Ploymitr Bldg., Floor 7
Sukhumvit soi 2
Klongtoey, Bangkok 10110 THAILAND

© Copyright 1999- 2022 by Mark Prado, All Rights Reserved.

More information on Thailand and some surrounding countries can be found in the Travels section of the personal website of Mark Prado, the author of ThailandGuru.com
DISCLAIMER: Although efforts have been made to ensure the information on this website was correct at the time of electronic publication, ThailandGuru and all its associates do not assume and hereby disclaim any liability to any party for any loss or damage caused by errors, omissions or misleading information resulting from negligence, accident or any other cause. If you choose to take any of this advice, it is at your own risk and no other entity's. ThailandGuru and its associates will take no responsibility. The only thing we guarantee is that our website information can take bandwidth, memory and/or disk space, at least temporarily. Guru is relative.
Menu: Site Map