Bangkapi and Minburi are fairly spacious outer suburbs, with housing villages comprised of spacious and nice homes. Bangkapi was a Thai middle to upper class region in the 1970s to 1990s, and continues to grow, mixing brand new with medium age housing.
No skytrain or subway, though the Ramkamhaeng route is planned

kkBkk.com has a list of properties in the Bangkapi-Minburi suburban region of Bangkok.

You can see my previous Bangkapi housing village at Sammakorn Housing Village and contact me if you'd like a tour by someone intimately familiar with the area. Sammakorn is a mix of old and new, and there are many similar housing villages nearby.


The Bangkapi-Minburi region has a great number of diverse housing estates. It's way beyond the scope of this website to cover them, and I suggest you get a good real estate agent or guide.
People who work in industrial areas to the north and east often settle down in Bangkapi or Minburi, or else in Rangsit - Pathum Thani. In fact, some people who work in eastern seaboard industrial zones come out setting up a home here in Bangkok, taking the Chonburi Motorway to work. If your tastes in home environment in the eastern seaboard regions is unsatisfied, then you may want to compare transit times between home and work from Bangkapi or Minburi, or else to Bang Na.
These industrial estates include Chachoengsao, Lad Krabang (aka Lardkrabang Industrial Estate), Bangchan Industrial Estate, Gemopolis Industrial Estate in Sukhaphiban, Wellgrow Industrial Estate, Alpha Technopolis Bonded Warehouse or Free Trade Zone, and Gateway City Industrial Estate.
The eastern ring road provides a quick link between the Bang Na port region and the Bang Pa-In Ayutthaya industrial estates, whereby Bangkapi and Minburi are located in-between the two right on the ring road. Therefore, many people who work in these areas live in Minburi or Bangkapi.
The new Suvarnabhumi International Airport, to open in 2006 in order to serve the eastern seaboard and eastern Bangkok, is located in-between Bangkapi-Minburi and Bang Na.
The Chonburi Motorway, which is the smoothest and quickest route to Rayong, Pattaya, and some industrial parts of Chonburi, intersects the eastern ring road right in-between Bangkapi-Minburi and the new Suvarnabhumi International Airport. This region has many nice places to live, and we expect this to be one of the best areas in terms of appreciation of property value in years to come.

---
Would you like to browse another part of the greater Bangkok metropolitan region? Just click on one of the darker green or yellow areas on the map below.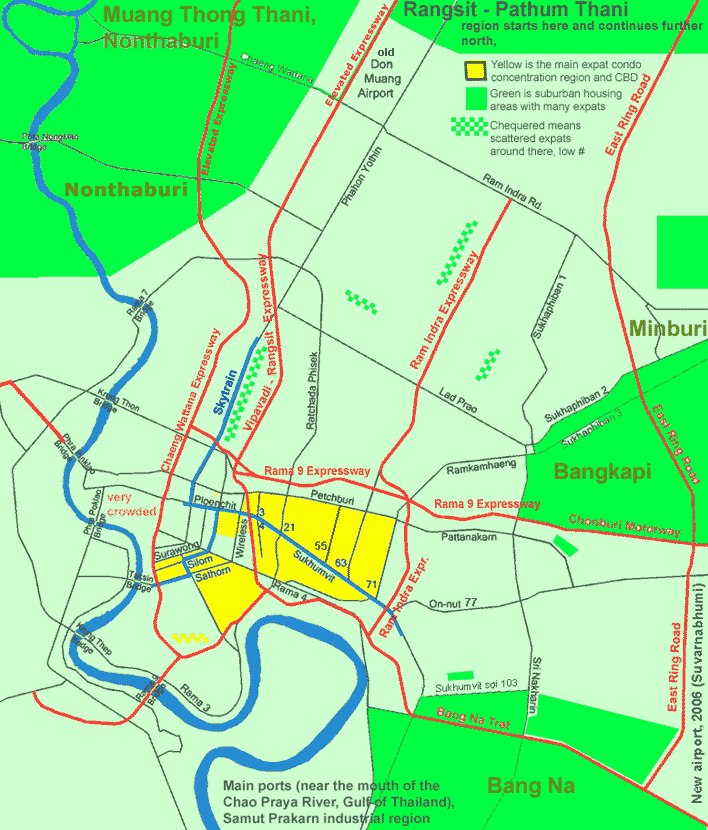 If you want a good guide or real estate agent, then please visit kkBkk.com and click on their contact page, or else email the Thailand Guru here
---
---
---
Additional, children pages of this current parent page:
Bangkapi, Minburi :


---
Copyright 1999 - 2022 by Mark Evan Prado, All Rights Reserved.
Notably, I get quickly notified of copies of tracts by the CopyScape / CopySentry automatic search engine & notifier.
Short quotes are often OK and can be approved, if there is a clear reference and web link back to my website from the quoted material, and if you send me a short message. I try to help people with good intentions, and try to help the world. Not thieves. Links back to this website are helpful for sustainable progress, thank you!
Please have honor and class by following intellectual property and internet protocols. Be a good kind of person in life.
---