Large numbers of expats find little niches to live in the Bang Na and Samut Prakan region.
Lower expat population density than CBD. Many expat families, but not concentrated like in the CBD, though there are certain neighborhoods with a lot of expat families

There are some very nice housing estates, golf courses, shopping malls and other conveniences in this region.

If you have a car, then it's a good location because there is an expressway going into the central business district, as well as Bang Na Trat going to the eastern seaboard, and the eastern ring road.

For people who come in and out of the airport often, this is one of the best regions (equivalent to Bangkapi-Minburi, discussed in another section) because you are on the same side of the city, which is not just a shorter distance but more importantly you don't run the usual risks of traffic jams. The expressways interchange in the city center, so if you live in another region, you run a risk during rush hour traffic due to jams and backups where the expressways interchange.

Many of the homes here have very spacious yards, which is difficult to find in the city center. You can jog and ride bicycles within the large gated communities. The neighborhoods normally have a clubhouse with pool, fitness, and other sports facilities.

The Bang Na region is a favorite for Lakeside property neighborhoods.





(You can click on the photo for a larger view, or see this house for rent in Lakeside, Bang Na, Bangkok.)
The are many luxury housing estates with hundreds of very large homes per estate. These are occupied by mainly top class Thais (most of whom speak good English) and expats, the percentage of expats often varying around 20-30% for the top housing villages. The Thais are usually owners of factories or sizeable companies.
A personal pool of a house: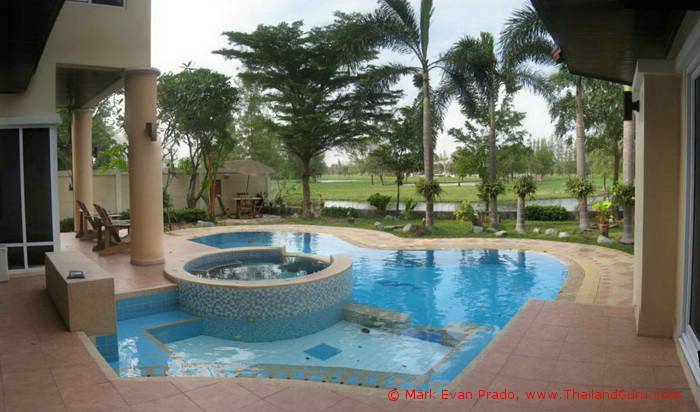 Below is a photo of the back yard of a house in the region. The fence is up against a nice lake (not pictured). Note also the small guest house/room on the side. Some yards with pools have their own separate entertainment house furnished in a variety of ways.



(You can click on the photo for a larger view.)
The housing estates in the Bang Na region are more hidden than usual. Driving down the main road, you can drive right past the entrance road to the housing estates without knowing it. They are often half a kilometer or more down a side street off the main road, hidden behind the businesses facade along the main road. You drive down a soi and suddenly there is a guard gate and it opens up into a beautiful, quiet and spacious housing estate.
The middle class housing estates are also very nice, and many have been built in the last 5 years. These typically have small yards, the rooms are not as large, and the furnishings are not so extravagant. There are expats in most of these, but at a lower population density, and they tend to be longer term expats. The Thais tend to be young professionals. There are also a lot of factory managers, engineers, logistics people, and wealthy Thais who just don't show off or splurge their money on a castle. They are normally gated communities with nice clubhouse having a pool and fitness center, parks, and many security guards riding around on bicycles.
Sample housing estate with small yards, somewhere between middle and upper class: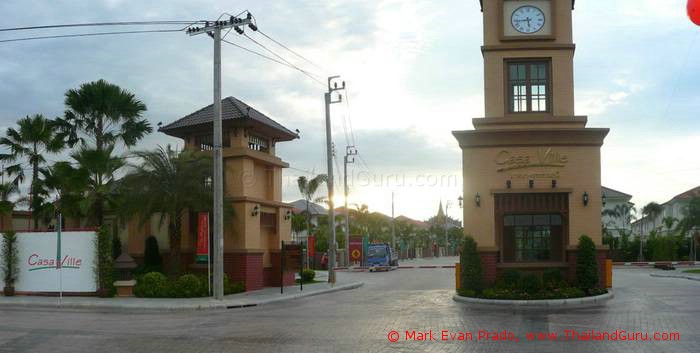 If you're willing to rent an older house (or buy one with your Thai wife), then you can find some really good deals. I have shown only new houses. So many people consider a house to be "old" if it's much more than 10 years old, just like people like to drive new cars. This is the market. Many people won't take anything more than 5 years old.


Condominiums and serviced apartments exist here, including luxury ones, but not nearly the luxury nor abundance you will find in central Bangkok. This is mainly a housing region, the opposite of central Bangkok. (Click on the image on the left if you want to see an example.)
This region now has several large, modern shopping malls, including:
Mega Bang Na, a giant complex completed which opened in 2012, including a big IKEA
Paradise Park, which opened in 2012, including a nice Villa Market grocery store
Seacon Square, within walking distance of Paradise Park, larger (11th largest in Thailand), and ecclectic
Central Plaza Bang Na, the oldest (1993), including an amazing water park on the roof
This region also has many superstores such as several Tesco Lotus shopping centers, a 24 hour Foodland, and some small shopping plazas. There are many good Thai restaurants, some which also serve western dishes.
There are many industrial estates in this region -- Bang Na, Samut Prakarn, and Bang Plee aka Bang Plii -- as well as in the adjacent province of Chonburi just a short drive down the Bang Na Trat expressway. Many people working in Chonburi choose to live in one of these Bangkok suburbs near the Bang Na Trat expressway or near this segment of the Eastern Ring Road.
This region is similar to Pathum Thani in its mix of industrial estates and housing estates, with a limited variety of restaurants, malls, and grocery stores.
One thing to be careful about is airport noise, as the main, international airport is in this region. The aircraft take off and land north-south, so only a narrow strip is affected, and this new Suvarnabhumi airport was chosen so the airplanes take off over mostly farm land, industry, and the seaside (unlike the old Don Muang airport which was surrounded by cheap Thai neighborhoods). It's also fairly close to the seaside in the take-off direction, which is the noisiest. From most neighborhoods, you cannot hear the aircraft, or can barely hear airplanes if you really try while outside. However, there are a few neighborhoods to avoid, including a few particular luxury neighborhoods. You can see some beautiful luxury houses advertised on the internet for great prices (bait and switch, since after visiting you'll say no, but then they can show you other neighborhoods...). We don't promote those houses.
Bang Na Trat 20-lane double-decker expressway, which has many elevated U-turns and elevated pedestrian walkways: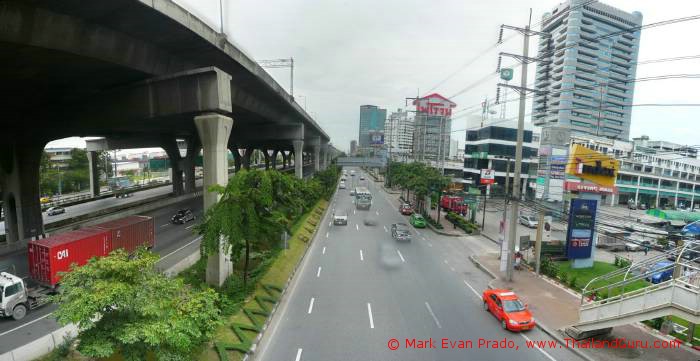 The eastern Ring Road running north-south cuts right down the middle of this region, including past the Gemopolis Industrial Estate in this region. The criss-crossing main highway is Bang Na Trat running east-west, which links you to the Bangkok central business district going west, and to the east Chonburi's many factories, including Amata Nakorn (formerly Bang Pakong) Industrial Estate, Hemaraj Chonburi, Wellgrow, Pinthong, and Chon Buri Industrial Estate (Bo-Win). Within the region are the Bang Plee and Theparak Industrial Estates.
With all those industrial estate names, you might get the idea that this is a heavily industrialized area, but that's not the case. The industrial zones are spread out and it's mostly suburban neighborhoods in-between. However, heavy trucks continuously run along the main arteries of the East Ring Road and Bang Na Trat, and the latter has a lot of container and equipment storage areas, warehouses, logistics operations, and non-smokestack factories.
Occasionally, a container stack will be close to a lakeside villas neighborhood:


Though this region is one of the most industrialized in all of Bangkok, the air quality is still good in general because it is next to the seaside, and most of the year the winds blow from southwest to northeast, right off the sea into Bang Na. (The word Na means "front" or "face", whereby Bang Na is the district facing the sea.)
The traffic also varies a lot around this area. You should know which roads tend to jam up especially during rush hour, versus which ones are fine. Bang Na Trat's center lanes almost always flow at practically top speed. The frontage road jams sometimes at particular places. There are shunts between the center lanes and frontage roads spaced short distances apart.
All in all, you need to know where to go and look around. There is such a great variety spread around this region that you practically need a tour guide.
kkBkk.com has a database of houses for rent in Bang Na, Samut Prakarn and surrounding region such as Sri Nakarin and Bang Plee.
Please note: At a given time, many houses known to be for rent or sale are not listed because no photos have been prepared and uploaded (commissions are lower for rentals, and there are so many rentals). If the above houses are the kind of thing you are looking for, then please contact a real estate agent at www.kkBkk.com who will ask you what you are looking for and match unlisted homes to your interests. An agent can save you a lot of time and find the best home for you.

---
Would you like to browse another part of the greater Bangkok metropolitan region? Just click on one of the darker green or yellow areas on the map below.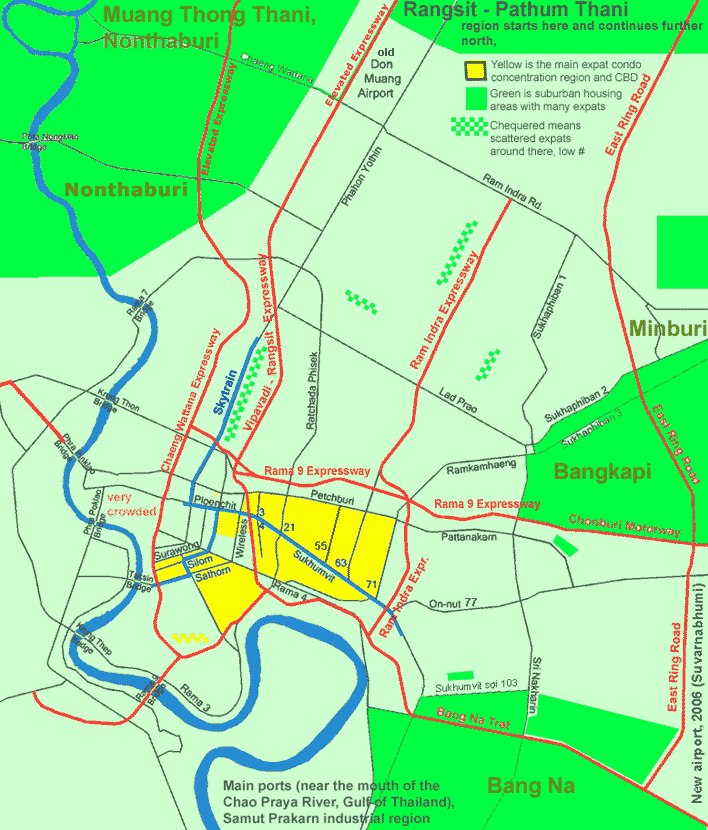 If you want a good guide or real estate agent, then please visit kkBkk.com and click on their contact page, or else contact the Thailand Guru here.
---
---
---
Additional, children pages of this current parent page:
BangNa, Suk 101-107, SriNakharin :


---
Copyright 1999 - 2023 by Mark Evan Prado, All Rights Reserved.
Notably, I get quickly notified of copies of tracts by the CopyScape / CopySentry automatic search engine & notifier.
Short quotes are often OK and can be approved, if there is a clear reference and web link back to my website from the quoted material, and if you send me a short message. I try to help people with good intentions, and try to help the world. Not thieves. Links back to this website are helpful for sustainable progress, thank you!
Please have honor and class by following intellectual property and internet protocols. Be a good kind of person in life.
---
Services discussed on Thailand Guru are provided by our friendly staff in our family of 3 companies:
Lucky Lion Pride Co., Ltd., centrally located on Sukhumvit soi 2
Prado Property Co., Ltd. co-located on Sukhumvit soi 2
Export Quality Services Co., Ltd., co-located on Sukhumvit soi 2

Led by two longtime expats from the USA and New Zealand
and supported by many good, skilled longtime Thai staff,
customers usually find us a delight to work with.

Please click here for how to contact us
Please make an appointment before stopping by.

Ploymitr Bldg., Floor 7
Sukhumvit soi 2
Klongtoey, Bangkok 10110 THAILAND

© Copyright 1999- 2023 by Mark Prado, All Rights Reserved.

More information on Thailand and some surrounding countries can be found in the Travels section of the personal website of Mark Prado, the author of ThailandGuru.com
DISCLAIMER: Although efforts have been made to ensure the information on this website was correct at the time of electronic publication, ThailandGuru and all its associates do not assume and hereby disclaim any liability to any party for any loss or damage caused by errors, omissions or misleading information resulting from negligence, accident or any other cause. If you choose to take any of this advice, it is at your own risk and no other entity's. ThailandGuru and its associates will take no responsibility. The only thing we guarantee is that our website information can take bandwidth, memory and/or disk space, at least temporarily. Guru is relative.