Housing in
Rangsit - Pathum Thani
(northern suburbs)
North of the Don Muang International Airport is Pathum Thani, which has a lot of housing estates and wide open spaces, dotted with superstores and modern malls such as Future Park Rangsit and the Zeer computer supercenter (similar to Pantip Plaza).
The eastern part of Pathum Thani is called "Rangsit" and is more developed with lots of activity, due to the old Vipawadi-Rangsit Rd which was for decades the main north-south traffic artery past the airport, until the modern new expressway system started to emerge in the late 1990s.
This region is connected to the central business district by two scenic elevated expressways, the Vipawadi-Rangsit Elevated Expressway (with old road below) and the Chaeng Wattana Elevated Expressway (with mostly dirt and grass below), as shown on the map below.
On the outside, the Eastern Ring Road connects you to the eastern suburbs and Eastern Seaboard Industrial Zones, and likewise for the Western Ring Road. That's right -- Pathum Thani is served by four expressways.
These four expressways are shown in red (as are other expressways in central Bangkok). Pathum Thani is in the brighter green, and the neighboring region called Nonthaburi is in dark green. The airport is in blue. Pathum Thani actually continues still further north off the map a good ways, and both provinces extend further west. You can click on the map to get a magnified and more readable version.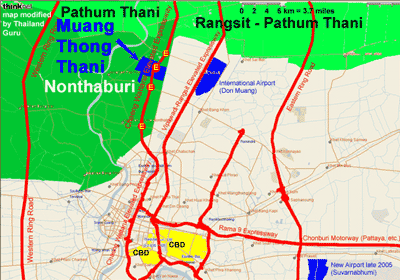 Actually, the map above shows only about 25% of Pathum Thani, the southernmost part.
Pathum Thani has a lot of new, modern housing estates spread out all over the place. (This is where the Thailand Guru lives, a short distance off the map to the north, and takes a quick drive down the expressway to his office in Muang Thong Thani.)
It's important to get some perspective by comparing the size of Pathum Thani to the size of the Sukhumvit-Silom central business district (CBD) in yellow at the bottom (stretching from Silom riverside to Sukhumvit 77). However, in Pathum Thani, you don't need the skytrain to avoid the traffic, but can quickly breeze thru distances like that, e.g., to pick up the kids at one of the international schools up there.
kkBkk.com has a list of Rangsit, Pathum Thani, and northern Bangkok suburban homes.
Most of Pathum Thani and Rangsit is wide open, but there is considerable traffic congestion along certain strips and in a few spots in Rangsit, and you can get on and off the elevated expressways only at certain places. Once you get familiar with the area and its various back roads, then you learn how to avoid these few strips and intersections entirely, and can sail in and out of your home peacefully.
Notably, the "Chaeng Wattana" expressway previously ended at Chaeng Wattana Rd. in Nonthaburi, but was later extended all the way to the Western Ring Road (intersection off the map, further north). When you take this expressway, you will pass over Chaeng Wattana Rd. which is more than halfway to Pathum Thani. You will notice from the scenery that it changes to a lot of greenery, wide open spaces and a few of the visible new housing estates right after you cross over Chaeng Wattana Rd. It stays elevated well into Pathum Thani, eventually coming down among rice patties shortly before Thammasat University's new campus.
Along the Vipawadi-Rangsit elevated expressway, however, it doesn't seem to open up until you get all the way to Rangsit and the expressway lowers to the ground, among business and industrial facades. Behind some of those are vast housing estates, but you need to know which side roads to turn off into.
The ancient ruins of Ayutthaya are only about 30 minutes north, as are many modern industries which have taken root in that adjacent province. The expressways come together at the northern tip of Pathum Thani and then go their own ways to the north and northeastern parts of Thailand.
Many expats living in Pathum Thani work in industrial operations in Ayutthaya, Saraburi, and Pathum Thani. This includes the Nava Nakorn Industrial Promotion Zone (in Pathum Thani), Bangkadi Industrial Park (in Pathum Thani), Bangpa-in Industrial Estate (Ayutthaya), Chutikarn Factory House Industrial Estate (Ayutthaya), Saha Rattana Nakorn Industrial Estate (Ayutthaya), Hi-Tech Industrial Estate (Ayutthaya), Rojana Industrial Park (Ayutthaya ), Nong Khae Industrial Estate (Saraburi), Saraburi Industrial Park, and Siam Cement Industrial Land.

---
Would you like to browse another part of the Bangkok greater metropolitan region?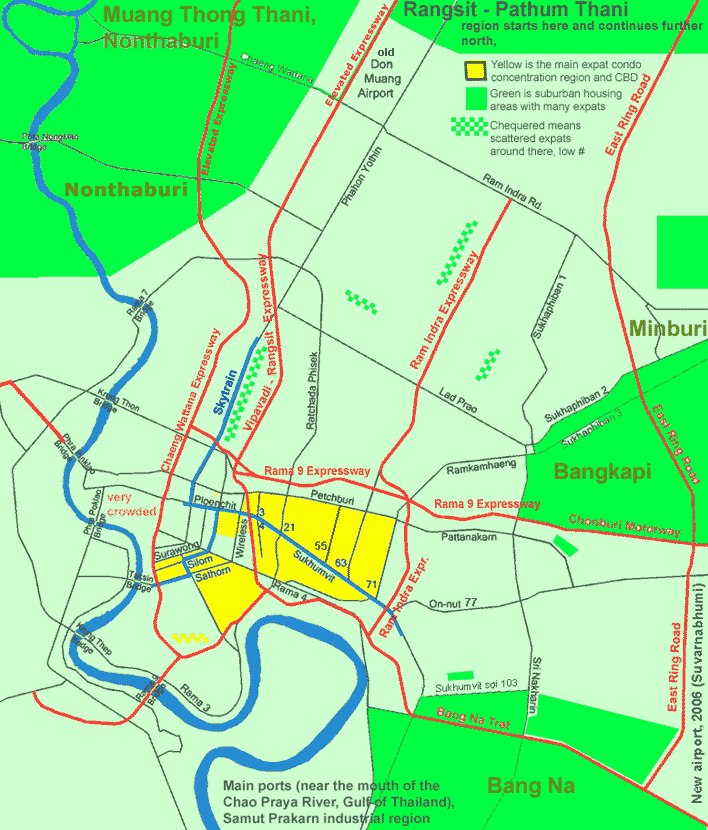 If you want a good guide or real estate agent, then please visit kkBkk.com and click on their contact page, or else email the Thailand Guru here
---
---
---
Additional, children pages of this current parent page:
Rangsit, Pathum Thani :


---
Copyright 1999 - 2022 by Mark Evan Prado, All Rights Reserved.
Notably, I get quickly notified of copies of tracts by the CopyScape / CopySentry automatic search engine & notifier.
Short quotes are often OK and can be approved, if there is a clear reference and web link back to my website from the quoted material, and if you send me a short message. I try to help people with good intentions, and try to help the world. Not thieves. Links back to this website are helpful for sustainable progress, thank you!
Please have honor and class by following intellectual property and internet protocols. Be a good kind of person in life.
---
Services discussed on Thailand Guru are provided by our friendly staff in our family of 3 companies:
Lucky Lion Pride Co., Ltd., centrally located on Sukhumvit soi 2
Prado Property Co., Ltd. co-located on Sukhumvit soi 2
Export Quality Services Co., Ltd., co-located on Sukhumvit soi 2

Led by two longtime expats from the USA and New Zealand
and supported by many good, skilled longtime Thai staff,
customers usually find us a delight to work with.

Please click here for how to contact us
Please make an appointment before stopping by.

Ploymitr Bldg., Floor 7
Sukhumvit soi 2
Klongtoey, Bangkok 10110 THAILAND

© Copyright 1999- 2022 by Mark Prado, All Rights Reserved.

More information on Thailand and some surrounding countries can be found in the Travels section of the personal website of Mark Prado, the author of ThailandGuru.com
DISCLAIMER: Although efforts have been made to ensure the information on this website was correct at the time of electronic publication, ThailandGuru and all its associates do not assume and hereby disclaim any liability to any party for any loss or damage caused by errors, omissions or misleading information resulting from negligence, accident or any other cause. If you choose to take any of this advice, it is at your own risk and no other entity's. ThailandGuru and its associates will take no responsibility. The only thing we guarantee is that our website information can take bandwidth, memory and/or disk space, at least temporarily. Guru is relative.
Menu: Site Map