Housing - Ekamai-Ram Indra, Rama 9
The housing region which is closest to the Central Business District (CBD), of those with big modern neighborhoods as gated communities, is along a relatively short offshoot expressway just northwest of the Sukhumvit housing region, connecting Rama 9 Rd. along the south end and the Ram Indra artery on the north end, and is essentially a continuation of Ekamai Road with only a name change from Ekamai to some other names almost no expats recognize. I call this expressway the Ekamai-Ram Indra expressway, or more accurately the Rama 9 - Ram Indra expressway. It is an elevated expressway with a ground based artery on both sides. (See a more accurate description at the end of this page.)
These neighborhoods are just like outer suburban neighborhoods except they don't have the biggest yards nor golf courses, but they are quiet with spacious roads, clubhouses with pool, fitness center, and other amenities, and your children can ride bicycles around them.
This one's of average spacing for this region: (you can click on it for a larger photo)


The slightly older neighborhoods tend to have bigger yards and roads, yet more economical houses.
Most of the housing estates are not on the main road. They are behind the business facade where you can't see them from the road. You must know which road to go down, though it's a short ways. Some nice neighborhoods are hidden around a couple of turns.
Some of the most fantastic plant markets are to be found in this area, sprawling in the open air along the roadside, with a wide variety of genus and species, as well as many exotic flowers. Since things grow year round in Thailand, you'll find some wonderful ideas in some of your neighbors yards. (This is similar to some other suburbs.)
This region has only a few international schools with a high percentage of expat childrens, like the French international school Lychee (with a French housing estate, too), and the Kesinee International School. Many kindergartens are scattered around. However, this is not an international schools area. Other suburbs have much more popular international schools.
There are a few shopping centers and superstores around, but no giant shopping malls.



(Click on the image for a larger view.)
One of the strengths of this region is that restaurants abound down the side roads, and there are also many along the frontage road. It is a trendy Thai area. Some claim to make western food (including a New Orleans cajun food restaurant I haven't tried yet). Most are Thai restaurants of medium to high class. Exploring the side roads, there are wonderful discoveries around many nooks and crannies.
Many of the restaurants are run by wealthy Thai people as much as a social hobby as for business. Some of them come and go within a few years. The decor of the restaurants can also change dramatically season by season.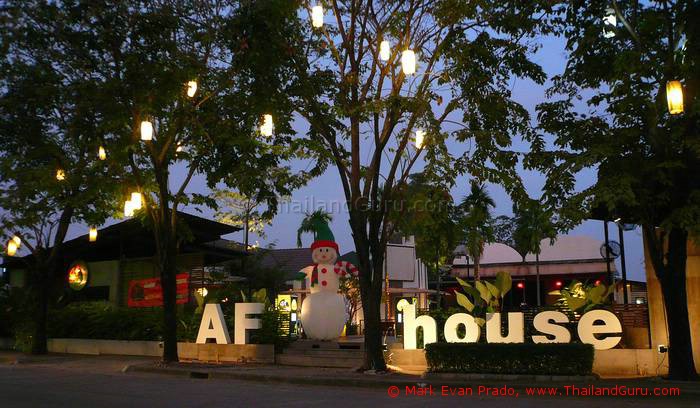 Cheap garden, open air restaurants are aplenty.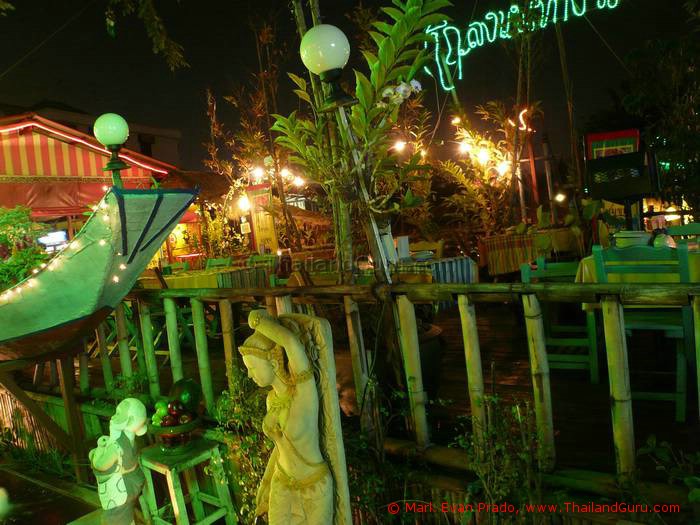 There is also considerable Thai nightlife along some main roads, which is relatively quiet and nothing like what you find in the rowdy expat part of town, albeit some places with names like Meatball Reggae and Glass House. The Thai nightlife in this region is generally of medium to fairly high class, and very relaxed and open.
The region has a few ecclectic hotels and "resorts". It also has some big mainstream hotels, but those are unremarkable for the most part. Some of the boutique ones are only about 700-800 baht per night ($25) and are in fairly interesting areas for a relaxed time.
Geographically, this region includes Town In Town, the middle part of Lad Prao Rd. (crossing), and Nawamin Rd., in case any of those names sound familiar.
The Ram Indra expressway is linked to the expressway network as an adjunct, as shown near the center of the map below. I have not highlighted this region enough in dark green. It has fewer expats than other suburbs further out, but its proximity to the city makes it interesting to many.
I include the name "Ekamai" for this region mainly so people understand approximately where it's located. Many expats (and real estate agents) also call this area "Ekamai" or "upper Ekamai", which sounds attractive like it's some extension of the central expat region. Yes and no. This is not Ekamai nor "upper Ekamai". Ekamai is the 3 km (2 mile) road between Sukhumvit Rd. (lower Ekamai) and Petchburi Rd. (real upper Ekamai). This region is nowhere near the Ekamai skytrain station, unlike "lower Ekamai". However, if you continue down past the end of Ekamai, cross over the Ekamai flyover at Petchburi where the road changes name, and just stay on that road going towards Ram Indra, then you're going down the right road. You never changed road. The road just changed names. Call the road Wichai, or Pradit Manutham, or whatever you want. Why they didn't just call it Ekamai, I don't know.
If you're on the expressway or Rama 9 Road, just follow the street direction signs pointing you towards "Ram Indra", and you will turn onto this road.
However, if you tell anyone to go to Pradit Manutham Road, most of them won't know where you're talking about, including taxi drivers. Tell them to go to the Ekamai-Ram Indra expressway and they almost always know immediately. (Otherwise, use "Town In Town".) So I use what works. Maybe it will become the official de facto convention someday.
Better yet, if you're looking for a house up here, contact me and I or one of my agents can show you around.
This photo is from this region, an expat family riding bicycles with their child: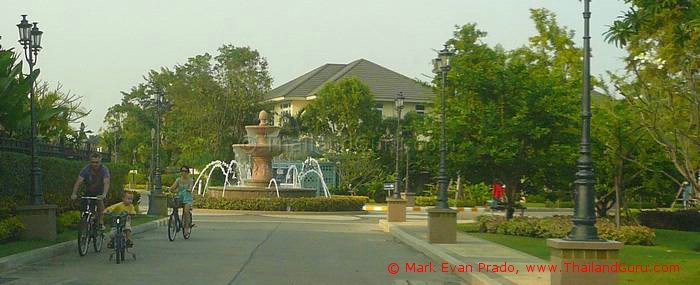 ---
Would you like to browse another part of the greater Bangkok metropolitan region? Just click on one of the darker green or yellow areas on the map below.